Malaysia clamps down on illegal wildlife trade using social media
Kuala Lumpur, Malaysia, 27th July 2015—Malaysian authorities announced today the arrest of four men and the rescue of two juvenile Orang Utans offered for sale through a social media page used by a clandestine group to trade exotic wildlife online.
---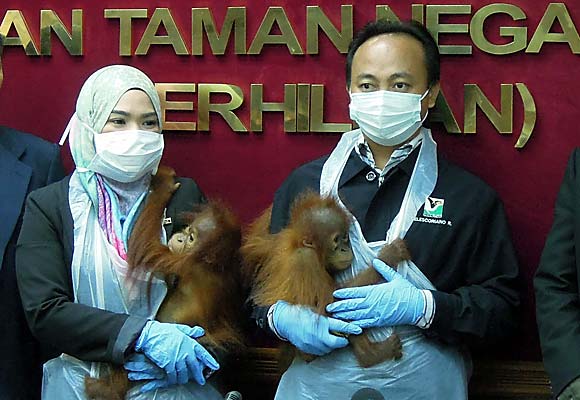 The arrests and seizure were part of Ops Taring III, a government-led crackdown on illegal wildlife trade using social media.
The Critically Endangered Orang Utans were believed to have been smuggled from Sumatra to Malaysia by two Indonesian nationals who handed them over to two Malaysian nationals, one of whom advertised the apes for sale on social media.
All four men were detained by Department of Wildlife and National Parks Peninsular Malaysia (Perhilitan) enforcement officers. The Orang Utans were found hidden in a duffel bag in a car.
The suspects will face three charges under the Wildlife Conservation Act 2010 for being in possession of and importing a totally protected species without a special permit and for cruelty towards the animals, Wildlife Enforcement Director Abdul Kadir Abu Hashim told a press conference today.
Abdul Kadir also warned the public that they would face the full force of the law if they were caught poaching, smuggling or illegally trading protected wildlife; or were found to be colluding with wildlife criminals.
He also told the press conference that one of the Malaysian suspects had been operating for about two years and had previously posted snakes, tortoises and bears for sale. 
Perhilitan said the operation leading to the arrest had been a joint effort between its cybercrime division, the Malaysian Communications and Multimedia Commission, CyberSecurity Malaysia and Interpol, with supporting information from the public.
"Perhilitan's success is testament to the government's ability to tackle illegal wildlife trade. This is a true case of Malaysia Boleh, a motto of the Malaysian government to achieve its ambitions—all that is needed is the will and resources to do so", said Kanitha Krishnasamy, Programme Manager for TRAFFIC in Southeast Asia.
"The use of social media in wildlife trafficking creates enforcement challenges, but the proactive and collaborative efforts in this case demonstrate how the challenges can be overcome." 
This case follows the arrest and prosecution of seven other online wildlife traffickers in March. The seven were caught with a host of protected and endangered animals including a saltwater crocodile, juvenile eagles, a bear cub, a fox and a slow loris.
The Orang Utans will be cared for at a Perhilitan's rescue centre while DNA testing is carried out to determine their subspecies and arrangements are made to return the animals to their country of origin. Indonesian authorities have been informed of the seizure.
---
Notes:
Update: On 20th October 2015, Perhilitan announed the two Orang Utans would be returned to Medan, Indonesia, the following day. 
---