Global Tiger Day: Malayan Tiger faces bleak future
Kuala Lumpur, Malaysia 29th July 2015—The Malayan Tiger has little to celebrate this Global Tiger Day. As of 23rd June, it was officially listed as Critically Endangered in the IUCN Red List of Threatened Species, the world's most comprehensive source of information on wild animals and plants and the levels of threat they face.
---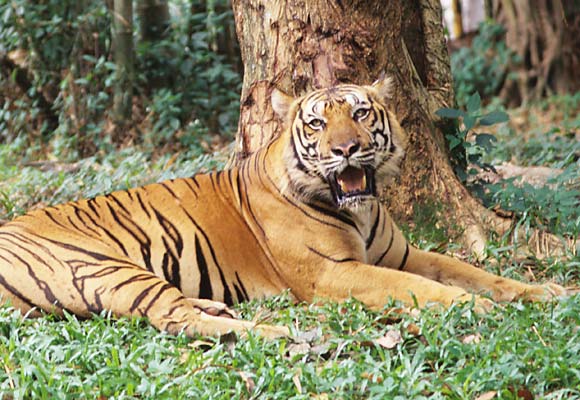 However, there was positive news from Bhutan on Global Tiger Day, where an increase in the national Tiger population from 75 to 103 was announced. The figures were obtained through a nationwide Tiger survey carried out by Bhutanese nationals as part of the nation's efforts to achieve an international commitment made by Tiger range States to achieve Tx2—a doubling of the wild Tiger population by 2022.
The Tigers of Peninsular Malaysia were once estimated to number around 500. But the best available evidence indicates there are likely to be fewer than 250 mature individuals and their number is likely to have declined by more than 25% in one generation (seven years). Furthermore, there are no pockets of forest in Malaysia with an estimated population of 50 or more mature tigers.
The decline was first brought to national attention by Perhilitan and the Malaysian Conservation Alliance for Tigers (MYCAT)  in September 2014 after studies across three major Tiger landscapes in Peninsular Malaysia between 2010 and 2013 suggested there may only be 250-340 wild Tigers left.
"This acknowledgement of our research is sadly a tacit recognition that our Tigers face a bleak future," said MYCAT General Manager, Dr Kae Kawanishi. Aside from the announcement of a national survey to produce a more accurate population estimate of the Malayan Tiger, little has changed since last September.
"We cannot carry on with this level of official inaction and disinterest," said Kanitha Krishnasamy, Programme Manager for TRAFFIC in Southeast Asia.
From 2000–2012, parts of more than 1,400 Tigers have been seized in 12 Tiger range States—an average of 110 Tigers killed per year, or just over two per week. 
The situation is dire for the Malaysian icon too – parts of close to 100 tigers have been seized by the authorities in Malaysia over the past decade. One man in Kedah was convicted after he was found in possession of the skin and bones of 22 Tigers. 
"Intelligence-led law enforcement is paramount to eliminating those behind the hunting and trade of Tigers," said Krishnasamy. 
"Malaysian authorities have made recent arrests in connection with trafficking of other species, the challenge is to extend this enforcement action to protect our Tigers too."
"The concerted efforts of all parties are crucial, from governmental bodies to NGOs to members of the public. All of us need to acknowledge the seriousness of this issue and act fast as the Tiger's extinction is not an option for Malaysia," said WWF-Malaysia Executive Director/CEO Dato' Dr. Dionysius Sharma.
The Malaysian Conservation Alliance for Tigers (MYCAT) is reiterating calls for a high-level national task force to plan and manage the recovery of wild Tigers and is stressing the urgency for new Tiger patrol units to strengthen protection against poachers. An honest and thorough review of the National Tiger Conservation Action Plan and the determined implementation of the Central Forest Spine Master Plan must take place soon. 
MYCAT is also calling on the Malaysian public to voice their concern, show their support for their wild Tigers, to say no to the use of tigers as medicine, exotic meat or pets, to report wildlife crime to the Wildlife Crime Hotline (019-356 4194), and to let their elected representatives know that this is a problem they want to see action on. 
MYCAT is an alliance of the Malaysian Nature Society (MNS), TRAFFIC, Wildlife Conservation Society-Malaysia Programme and WWF-Malaysia, supported by the Department of Wildlife and National Parks Peninsular Malaysia, for joint implementation of the National Tiger Conservation Action Plan for Malaysia.
---