Large ivory seizure in Malaysia - the third in past three months
Kuala Lumpur, Malaysia, 5th September 2011—The Royal Malaysian Customs has seized two containers filled with 695 elephant tusks in the country's largest port, bringing to three the number of large-scale seizures of ivory in the past three months.
---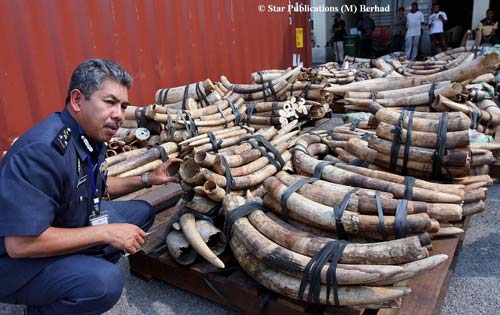 The shipment, labeled as "recycled craft plastic" originated in Tanzania and was destined for China, said Customs assistant director-general Datuk Zainul Abidin Taib. 
The tusks, weighing close to 2,000 kg were packed in gunny sacks and hidden under the plastic material, the same way it had been in the shipment seized a fortnight ago in Penang, Zainol said.
The seizure in Penang on 21st August, consisted of 664 African elephant tusks hidden in a container from the United Arab Emirates. The 1.5 tonne seizure, declared as "used plastics", was made at the Butterworth Port, in the northwest of Peninsular Malaysia.
In an earlier seizure on 8th July, the Wildlife and National Parks Department and Customs Department seized a container of 405 African elephant tusks declared as plywood at the Pasir Gudang Port, in the southernmost state of Johor.
Speaking on the latest seizure, Zainul said it would not have been possible without information from the public.
"We hope the public will continue to co-operate with Customs and provide us with timely information," he told TRAFFIC Southeast Asia.
No arrests have been made so far but Zainul said investigations into the three recent cases would continue.
Malaysia has come under a harsh spotlight in recent months for its role as a transshipment point in high-profile ivory seizures in Hong Kong and from Kenya and Tanzania.
"This latest in a series of major ivory seizures in Malaysia is both heartening and disappointing," said TRAFFIC Southeast Asia Regional Director Dr William Schaedla.  
"It's heartening because it shows that the country's authorities can and will take action on the problem.  It's disappointing because it clearly validates what TRAFFIC has been saying for some time now – Malaysia is a major transshipping country for illegal ivory."
Schaedla congratulated the Customs Department on the successful seizures and urged continued vigilance both in Malaysia and in the region.
"Illegal wildlife trade is fluid. Now that the ivory traffickers have been caught out using some of Malaysia's ports they are likely to move through others in an effort to keep their black market business alive."
---