More than 1000 ivory tusks seized in Tanzania
Tanzania, 26th August 2011—Police in Zanzibar have seized 1,041 elephant tusks hidden in a shipment heading for Malaysia, according to media reports. 
---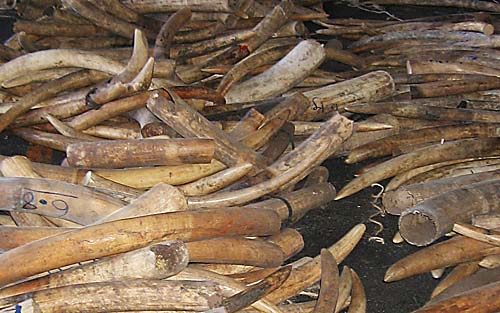 The consignment was reported to have been offloaded at Zanzibar two weeks previously, where it arrived from Dar Es Salaam, and had been stored near Stone Town. 
Two local transport agents are being held by police for further questioning. 
The ivory was hidden in a container of anchovies, where the strong smell would have discouraged an investigation of its contents. 
A similar modus operandi was used last year, when authorities in Hong Kong seized 384 elephant tusks in September, packed into two containers shipped from Zanzibar and labeled as dried fish. 
Following that seizure, in discussions with the Tanzanian government, TRAFFIC called for better law enforcement focus on the port of Zanzibar. 
"TRAFFIC applauds the Tanzanian officials for apprehending this latest seizure and we are delighted they are zeroing in on the port of Zanzibar as a major conduit for contraband wildlife products," said Tom Milliken, TRAFFIC's Elephant & Rhino Programme Co-ordinator. 
Milliken manages the Elephant Trade Information System (ETIS), the illegal ivory trade monitoring system that TRAFFIC runs on behalf of Parties to CITES (the Convention on International Trade in Endangered Species of Wild Fauna and Flora). 
ETIS holds the details of nearly 17,000 reported ivory and other elephant product seizures that have taken place anywhere in the world since 1989. 
According to the ETIS data, Tanzania has been implicated in more large flows of ivory than any other country—a total of 21 of the 83 largest (>800 kg) ivory seizures to date.  
 
This is the first large-scale seizure that Tanzania has made itself since 2007 and only the second large seizure since 2002, although many smaller seizures have been made during this period. 
Between 1989 and 2002, Tanzania made 10 large seizures (some 18.7 tonnes of ivory) before they were illegally exported, and no other large seizures were made elsewhere in the world during this period that implicated Tanzania, indicating a very good law enforcement record for the country. 
But from 2003 through 2010, 10 further large seizures originating from Tanzania (totalling 28.6 tonnes) were made in Asia (Hong Kong, Philippines, Taiwan and Viet Nam), and only one large seizure (890 kg) was made inside Tanzania.  
"The authorities in Tanzania appear to be making a welcome return to the pro-active law enforcement record they established throughout the 1990s," said Milliken.  
"As the country with the second largest elephant population in Africa, it's vitally important that Tanzania demonstrates good law enforcement, not only in terms of interdiction, but also subsequent investigation, arrest and prosecution of those responsible for the crime. 
"The seizure represents a minimum of 500 dead elephants so it's essential to find out who was behind the killings and how come the ivory got as far as it did."
Overall, illegal trade in elephant ivory has been increasing in Africa since 2004. 
A report tabled at last week's CITES Standing Committee noted: "the eastern Africa subregion has consolidated its position as the primary exit point for illicit ivory leaving the African continent, with Kenya and the United Republic of Tanzania as prominent countries of origin or export in the trade, despite significant seizures being made in Kenya in recent times." 
The role of Malaysia in illicit ivory flows has also been identified through analysis of ETIS data. According to the most recent full analysis, published in 2009: "Malaysia has progressively gained prominence in successive ETIS analyses as a transit country for African ivory."
TRAFFIC's work on ivory trade and elephants in Tanzania is supported by the Liz Claiborne Art Ortenberg Foundation.
---