Ivory "detector" fraudster sentenced to 7 years in jail
Cambridge, UK, 27th August 2013—A British businessman who sold fake bomb and ivory detectors has been sentenced to seven years in jail by a court in the United Kingdom. 
---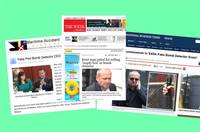 47 year old Gary Bolton sold the devices, which were nothing more than empty boxes with handles and antennae, for up to GBP10,000 (USD15,600) each, claiming they could detect drugs, tobacco, ivory and cash. His company was said by the prosecution to have an annual turnover of GBP3 million (USD4.7 million). 
In a separate but similar case, another British businessman, James McCormick, was jailed for 10 years in May this year for selling more than 7,000 fake detectors, which he claimed were able to detect explosives, drugs, ivory and money.  
In both cases the devices were marketed successfully to military, police and private clients around the world.  Among the buyers were wildlife enforcement authorities in Africa, who were led to believe that their fight against illegal ivory trade could be strengthened by use of these gadgets.
"It is a tragedy that scarce conservation resources were spent in good faith on 'technology' that turned out to be worthless junk," said Steven Broad, Executive Director of TRAFFIC. 
TRAFFIC had raised concerns about the efficacy of these devices with potential users a number of times over recent years.
"New technology has an important role to play in the fight against wildlife crime, but these cases demonstrate that the quest for quick solutions to difficult problems can sometimes lead to bad decisions.  Often the best approach is more rigorous application of tried and trusted enforcement approaches such as intelligence-led offender profiling, trained detector dogs and more efficient information sharing between agencies working to halt wildlife crime." 
---