IUCN Report: Improved supply chain management vital to reducing potential disease transmission risks in wildlife trade
A report by the International Union for Conservation of Nature (IUCN) Species Survival Commission (SSC) Wildlife Health Specialist Group has called for greater surveillance of infection and zoonotic disease to prevent potential zoonotic spillover events. It also emphasised the need for better sanitation and regular animal health checks in wildlife markets but advised against blanket, indiscriminate trade bans.
---
According to IUCN's Situation Analysis, identifying high-risk practices and improving sanitary and animal welfare conditions along wildlife trade supply chains, whether legal or illegal, is fundamental to reducing the likelihood of zoonotic disease transmission.
Dr Richard Kock, chair of the IUCN Wildlife Health Specialist Group, stated in the IUCN Situation Analysis report release: "We did not find evidence that would justify far-reaching bans on the sustainable use of wildlife from a disease risk perspective. In fact, such bans could actually be counterproductive since they may drive the trade to unknown and likely more dangerous illegal settings."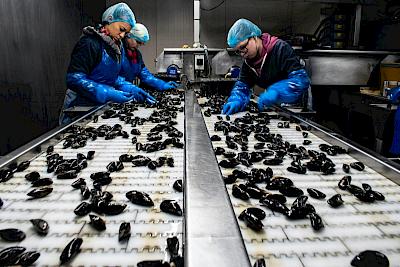 Last year, in collaboration with the authors of IUCN's report, James Compton, TRAFFIC's Wildlife TRAPS Project Lead, published an article on the potential adaptation of existing food safety-critical control points to identify hazards and manage disease risks associated with wildlife trade. 
Existing Critical Control Point-based systems used in domestic and wild animal supply chains show potential for wider adaptation to allow disease risks to be identified, assessed, and mitigated and depending on the context – ideally to complement existing wildlife trade regulations ensuring that legal trade is both sustainable and safe."
James Compton, TRAFFIC's Wildlife TRAPS Project Lead ''Getting health authorities to work in tandem with those government and private sector entities involved in wildlife trade management is fundamental to the success of any systems-based approach,'' said James Compton.
Reflecting on an IPBES1 report, the IUCN Situation Analysis also recommends that a broader approach is needed to tackle potential zoonotic spillover as the nature-human nexus is so complex. The impacts of human development, including population, economy, consumption patterns, the transformation of landscapes, and domestication of animals, have led to a critical point in the health of our planet.
Like TRAFFIC highlighted ahead of COP26, IUCN's Situation Analysis recognises that wildlife trade continues to be an essential source of income and sustenance for many communities at risk of losing their livelihoods, homes, and natural resource base due to climate change.
The report also underscores the need for context-specific responses that account for ecological, socio-political, economic and cultural factors to drive positive change – mirroring TRAFFIC's Situation Analysis on Social and Behaviour Change Messaging on Wildlife Trade and Zoonotic Disease Risks published in December 2021.
"Understanding human behaviours associated with the trade and use of wild animals will be essential to catalysing positive change towards One Health outcomes, including the countering of illicit activities associated with illegal wildlife trade that may bring higher risk," said James Compton.   
The Situation Analysis recommends implementing a One Health approach to mitigate wildlife disease risks, and that must incorporate a more robust environmental component to integrate with human and animal health efforts through appropriate partnerships, as noted in IUCN WCC Resolution 135 (IUCN, Members' Assembly, 2021) and in the Addendum to the IUCN Programme 2021-2024 (IUCN, World Conservation Congress, 2021).
While the IUCN report finds that all human-animal interfaces pose disease risk, it reveals that an estimated 99% of all human cases of recurring zoonoses come from domesticated animals and their products and within human-dominated environments, either through direct transmission or via food and water systems or insects. However, disease transmission risk can potentially aggregate along supply chains where wild animal specimens can often intermingle with domestic livestock in cramped or ill-managed and unhygienic conditions.
A One Health approach gives governments a practical frame of reference to ensure wildlife trade management gets the mainstream attention it deserves."
TRAFFIC Executive Director Richard Scobey
"Greater investment in cross-sectoral efforts will support priority actions to target high-risk practices and enable positive change in health, biodiversity and sustainable development," said Richard Scobey. 
Kock., R. and Caceres-Escobar, H. (2022). Situation analysis on the roles and risks of wildlife in the emergence of human infectious diseases. Gland, Switzerland: IUCN.
---
About IUCN

The International Union for Conservation of Nature (IUCN) is a membership Union uniquely composed of both government and civil society organisations. It provides public, private and non-governmental organisations with the knowledge and tools that enable human progress, economic development and nature conservation to take place together. For more information visit: iucn.org
About IUCN Species Survival Commission:

With over 10,500 members in 174 countries, the Species Survival Commission (SSC) is the largest of the six expert commissions of IUCN and enables IUCN to influence, encourage and assist societies to conserve biodiversity by building knowledge on the status and threats to species, providing advice, developing policies and guidelines, facilitating conservation planning, and catalysing conservation action. Learn more at www.iucn.org/ssc