International collaboration to strengthen Viet Nam's wildlife trade enforcement
Ha Noi, Viet Nam, 2nd December 2010—Key international and national organizations meet today to strengthen co-operation on tackling illegal trans-boundary wildlife trade involving Viet Nam. 
---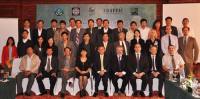 The two-day workshop will bring together Vietnamese and international enforcement agencies to share challenges and best methods in combating illegal wildlife trade, with the goal of enhancing existing mechanisms in controlling the illegal cross-border trade. Discussions will also draw from the knowledge of enforcement experts in other fields of illegal trade, such as international drugs and human trafficking.
Representatives from international organizations including INTERPOL, United Nations Office on Drugs and Crime, CITES Secretariat, World Customs Organization, ASEAN-Wildlife Enforcement Network, and South Africa National Wildlife Crime Reaction Unit, TRAFFIC Southeast Asia and Wildlife Conservation Society will be joining nearly 30 representatives from national Vietnamese enforcement agencies.
"This workshop is a unique opportunity for key enforcement agencies from Viet Nam and international organizations to learn from each other and co-ordinate efforts against international wildlife crimes in the ASEAN-WEN and CITES frameworks," said Dr Ha Cong Tuan, Deputy Director of the Directorate of Forestry. 
CITES is the Convention on International Trade in Endangered Species of Wild Fauna and Flora and is the main multilateral agreement regulating the international trade in wildlife.
Despite an increase in enforcement efforts by international organizations and governments to control illegal wildlife trade at the national, regional and global level, this trade continues in many countries, threatening species such as Tiger, rhinoceros and elephants with extinction. Complex routes involving organized trans-boundary crimes connect illegal wildlife to consumers around the world. Southeast Asia, including Viet Nam, has become both a consumer of wildlife and a conduit of products destined for other countries. 
The workshop will have a special focus on the illegal Tiger trade. In 2010, this iconic species has received a great deal of international attention, culminating in the International Tiger Forum held in St Petersburg, Russia last week, where delegates from Tiger range States, including Viet Nam, signed commitments to protect Tigers, Tiger prey and Tiger habitat, in order to increase the world's tiger population by the year 2022 to 7,000 from the current 3,200 individual tigers remaining. 
"The hope is that discussions such as these, which draw on the expertise of both international and local agencies, will aid in the global fight against illegal trade in key species such as the Tiger," said Dr William Schaedla, Director of TRAFFIC Southeast Asia, the wildlife trade monitoring organization providing technical support for the event.
---
Notes:
Vietnamese participants include officers from the Viet–WEN, Forest Protection Department, Customs anti-smuggling Department, Environmental Police, Agricultural and Rural Security, Border Army, Economic investigation police, Transport police, INTERPOL National Central Bureau, and Supreme People's Procuracy.

The event is being funded by the World Bank's GEF programme, implemented by the Forestry Directorate of Viet Nam, with technical support from TRAFFIC and the Wildlife Conservation Society.
---