Beluga caviar seized in transit
Rome, Italy, 3rd December 2010—Italian CITES Enforcement Authority officers—Corpo Forestale dello Stato—at Rome's Fiumicino airport yesterday seized a 15 kg consignment of Beluga caviar from a passenger in transit. 
---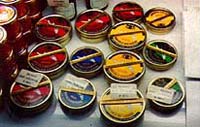 The contraband was found in the luggage of a passenger travelling from Istanbul in Turkey, en route to Casablanca in Morocco, although the caviar is believed to have originated in Iran. 
International trade in caviar is regulated through CITES (the Convention on International Trade in Endangered Species of Wild Fauna and Flora), and while limited trade is permitted, shipments must be accompanied by appropriate documentation. 
Initial tests reveal the caviar is from the Beluga Sturgeon, a species that can live to 100 years and weigh more than two tonnes, and whose caviar is considered the most valuable of all. 
Caviar, the eggs or roe of sturgeons and paddlefish, is considered a delicacy, and is especially popular around Christmas time. However, there are serious concerns over the sustainability and legality of the trade in caviar from the Caspian Sea region, which has known links to organized crime. 
Numbers of Beluga Sturgeon, like the other five sturgeon species found in the Caspian Sea region, have plummeted in recent years—some by more than 95%, such that all except one are now listed as Critically Endangered in the wild by IUCN, the International Union for Conservation of Nature. 
This September, European Union Member States decided to suspend the import of wild sourced caviar from countries in the Caspian Sea region, because of deep concern over the conservation status of sturgeon species. 
"The future for wild sturgeons in the Caspian Sea is very bleak indeed", said Rob Parry-Jones, Director of TRAFFIC Europe.  
"Strong measures need to be adopted and enforced by the range States, supported by actions in consumer countries. The EU's decision to suspend imports of wild sourced caviar from the Caspian Sea region, following the advice of its Scientific Review Group, is one such step." 
"Border enforcement actions for caviar coming into or transiting through the EU are another necessary step. The Italian authorities are to be warmly congratulated on this significant seizure."
---