Customs meet to tackle Russia-China cross-border smuggling of wildlife
Vladivostok, Russia, 25th November 2010—Customs officers from Russia and China met last week to strengthen international co-operation in tackling cross-border smuggling of Tigers and other wildlife products. 
---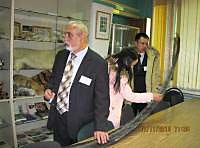 Representatives from the Federal Russia Customs, Far East Customs Directorate, Far East Operative Customs, Siberian Customs Directorate, General Customs Directorate of China, TRAFFIC Russia and TRAFFIC China met from 16–18 November in Vladivostok, through a programme supported by WWF Russia, Germany, the Netherlands, and the UK. 
During the meeting, participants carried out an analysis of the current situation regarding wildlife trafficking across the Russian-Chinese border, and discussed practical ways it could be addressed. 
A trans-boundary "Action plan on International Co-operation between the Customs of Russia and China to control illegal cross-border trafficking of wild animals, plants and their derivatives" was drafted based on a needs analysis and information provided by Russian and Chinese customs officers and by TRAFFIC representatives. 
The draft Action Plan builds upon the Protocol between the Government of the Russian Federation and the Government of the People's Republic of China on Tiger Protection of 10 November 1997, and lays down a sound framework for co-operative actions between the two countries.  It is anticipated it will lead to a formal bilateral agreement between Russia and China.
"Once endorsed, the Action Plan will provide important and practical steps towards co-operative and effective enforcement actions to regulate cross-border wildlife trade," said Alexey Vaisman Senior TRAFFIC programme co-ordinator and WWF representative in Russia. 
The meeting took place just ahead of the International Tiger Forum in St Petersburg, where leaders from the 13 Tiger range countries issued a Declaration and adopted a Global Tiger Recovery Programme (GTRP). 
The Declaration commits the countries to a variety of measures to protect Tigers, including a commitment to work "collaboratively to eradicate poaching, smuggling, and illegal trade of tigers, their parts, and derivatives." 
Demand for Tiger parts is fuelling the poaching of Tigers, especially in South-East Asia and India. Currently the estimated number of wild Tigers is around 3,200 animals, down from 100,000 a Century ago.
"Tigers are in serious danger because of the illicit trade in Tiger parts," said Vaisman. 
"The meeting of Customs officers on both sides of the Russian-Chinese border was a timely one in preparation for implementation of the commitments made at the St Petersburg Tiger Forum."
---