Illicit wildlife trafficking recognized as a new form of transnational organized crime
Vienna, Austria, 22nd October 2012 - Governments gathering last week for a meeting of the United Nations Convention against Transnational Organized Crime have recognized environmental crime, such as illicit trafficking in wildlife, as a new form of transnational organized crime in need a greater response. The meeting passed by consensus a resolution encouraging governments to further strengthen their domestic laws to prevent and combat these crimes.
---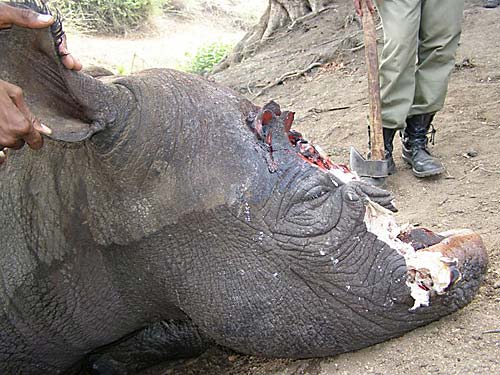 "The recognition that illicit wildlife trafficking is a new form of transnational organized crime should be a wake-up call to governments worldwide," said Wendy Elliott, WWF Global Species Programme Manager. "All forms of transnational organized crime have major impacts on stability, security and development. Urgent action is now desperately needed to strengthen efforts to combat illicit wildlife trafficking at all levels of the trade chain."
During the meeting, the United Nations Office on Drugs and Crime (UNODC) highlighted the sophisticated techniques used by wildlife traffickers, and the links between environmental crime and other crimes associated with high levels of violence and corruption. 
UNODC encouraged countries to take action against trafficking in endangered species, and to consider making trafficking of endangered species a serious crime. Under the convention, serious crimes are defined as those that are assigned prison sentences of at least four years.
"Wildlife criminals are raking in huge profits from this illegal activity, at relatively low risk of arrest, prosecution or imprisonment" said Stephanie Pendry, Enforcement Programme Leader for TRAFFIC, the wildlife trade monitoring network. "They are escaping justice because wildlife crime has not been regarded as a serious crime. But these criminal networks are having huge impacts, threatening not only wildlife, but also damaging communities, local economies and rule of law."
Several governments spoke out at the Vienna meeting about the severity of wildlife crimes and their negative impacts on society. South Africa, which is the epicentre of the current rhino poaching crisis, noted progress with inter-ministerial cooperation between its government branches.
"Rhino poaching has escalated dramatically in parts of South Africa, due to the ruthless assault on the rhino population by criminal groups. We are bringing together policy, defence, customs and conservation officials to tackle this serious organized crime," said Pitso Montwedi, South Africa's Chief Director of Human Rights and Humanitarian Affairs.
The United Nations Convention against Transnational Organized Crime is the main international treaty dedicated to the fight against transnational organized crimes, such as the drug trade and human trafficking, and has been signed by 147 countries. 
Governments will take up the issue of wildlife trafficking again in April at a meeting of the UN Commission on Crime Prevention and Criminal Justice, which will focus on crimes impacting the environmental. With wildlife crime at record levels, and several species populations at imminent risk of local extinction due to rampant poaching and trade, WWF and TRAFFIC encourage governments to consider focusing the April meeting even further by concentrating on the urgent issues of forest and wildlife crimes.
---