Focus on sustainable use of biodiversity at CBD CoP11
Hyderabad, India, 19th October 2012—The eleventh Conference Parties of the Convention on Biological Diversity (CBD) concluded today with several agreements of relevance to the use of wild biodiversity.
---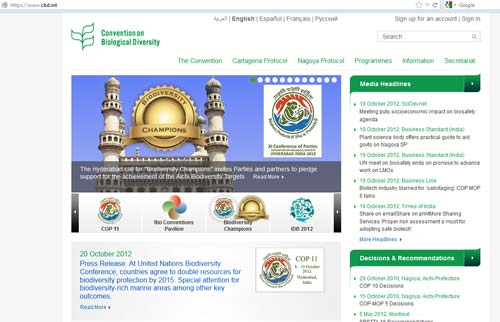 Amongst the main agreements reached were a series of national-level and international-level recommendations on the sustainable use of animals for "bushmeat".
"This is a milestone in CBD's history: for the first time ever the world has agreed on a set of global recommendations on how to understand better, identify and overcome the overharvesting of wild animals for food and medicine," said Roland Melisch, who has provided expert input to the CBD's bushmeat debate on behalf of TRAFFIC since 2008. 
"The Hyderabad bushmeat recommendations will ultimately lead to better decision-support systems, allowing policy makers to understand current situations in countries, enabling them to assess the severity and make up of any biodiversity, food, health, and/or development crisis," said Melisch. 
Amongst other decisions of CBD CoP11 was agreement on a Capacity Building Strategy supporting the CBD's Global Taxonomy Initiative. With the support of the Government of Japan, TRAFFIC is extending biodiversity knowledge within training units enabling wildlife enforcement officers to carry out their duties in East- and South-East Asia. 
Another milestone was the adoption of a decision related to the Global Strategy on Plant Conservation (GSPC), which approves a new toolkit to guide the GSPC's implementation, elaborates how to achieve the targets of the strategy and lays out how progress will be measured.
"TRAFFIC welcomes this CoP decision, which aims to help governements and organizations achieve delivery of the GSPC through the new toolkit," said Anastasiya Timoshyna, TRAFFIC's Medicinal Plants Programme Leader. 
"TRAFFIC is particularly pleased to note the inclusion of the FairWild Standard, developed by TRAFFIC and other partners, for sustainable harvesting and fair trade in wild plants as best practice guidelines within the new GSPC implementation toolkit."
The toolkit will help Parties to deliver and report on progress with the GSPC's implementation, particularly for Targets 12 and 11.
Earlier during the Conference, TRAFFIC organised a side-event on "Sharing experiences: Opportunities to Implement the Recommendations on Bushmeat" that was ably facilitated by bushmeat expert Dr Robert Nasi of CIFOR. The event brought together experts from the CBD Secretariat, the Central African Forest Commission (COMIFAC), the IUCN Sustainable Use and Livelihoods Specialist Group and the Zoological Society of London (ZSL). TRAFFIC also contributed to a side-event on the Central African Forest Observatory (OFAC) in support of decision-making related to the use of wild natural resources in the subregion, and co-launched with partners a new report on the unsustainable use and trade of bushmeat trade in the Southern and Eastern savannas in Africa. 
TRAFFIC's input to CoP11 was generously supported by WWF Japan and WWF Germany.
---