Asia fuels illegal wildlife trade and Singaporeans have a role in it
Conservation organisations call for governmental and public support against illegal wildlife trade in Singapore
Singapore, 25th October 2012 – World Wide Fund for Nature (WWF) Singapore and TRAFFIC in Southeast Asia are calling for the Singapore public to make a pledge on WWF Singapore's Facebook page (http://www.facebook.com/wwfsg) and website (www.wwf.sg) not to purchase or consume illegal wildlife products
---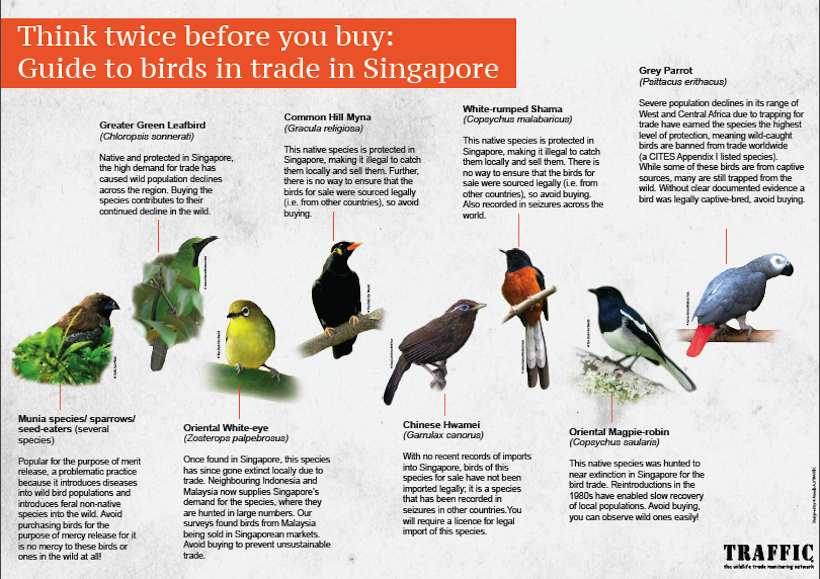 The initiative is part of a joint global campaign by WWF and TRAFFIC calling for governments around the world to strengthen legislation and enforcement against illegal wildlife trade, and for consumers to play their part in reducing demand for illegal wildlife products.
Singapore's trade network is believed to have been exploited by criminal groups in the illegal wildlife trade. For example, the world's second largest seizure of illegal ivory was made in Singapore in 2002 while a July 2012 report identified Singapore as a key laundering point for illegally caught birds from the Solomon Islands.  
Recent reports have seen Asia contributing significantly to the worldwide demand for illegal wildlife products. Rising affluence in Asia has resulted in an increase in Asian consumers with the means to purchase illegal products from highly threatened wildlife, such as tigers, elephants and rhinos.  
An estimated 800 kilogrammes of illicit rhino horn reaches Asian markets annually  mainly to feed a rising demand for its new-found but medically unsubstantiated use as a pick-me-up tonic and hangover cure. Ivory products can also be found in many Asian countries, including China, Thailand and Singapore – many are known to be from illegal sources.
Such demand has helped to fuel a dramatic upsurge of poaching and illegal trade of high value wildlife products. For example, rhino poaching in South Africa rose from 13 animals poached in 2007 to 455 to date in 2012 ; while tens of thousands of African elephants are estimated to be killed annually to supply the ivory markets in Asia.
"Illegally-sourced wildlife is laundered and smuggled into the global market on a very frequent basis. Large volumes of animals and plants are involved, many of which are threatened with extinction," said Dr Chris R. Shepherd, Deputy Regional Director of TRAFFIC in Southeast Asia. 
"While some irresponsible consumers are knowingly sustaining this unlawful trade, the majority o others are inadvertently supporting it due to the lack of information and attention focused on the illegal wildlife business. Increased awareness and responsible purchasing is absolutely essential if threatened wildlife species are to survive into the future."
In support of the WWF-TRAFFIC global wildlife trade campaign, the Singapore effort looks to raise public awareness around the issue of illegal wildlife trade. Beginning 25 October, members of the public will see outdoor advertisements at bus shelters located in the CBD area, Chinatown, Bugis, Holland Road and Bukit Timah, highlighting the severity of the illegal wildlife trade. The public can then view a short clip via the QR code to gain greater understanding of the illegal wildlife business.
"Through this campaign, WWF and TRAFFIC hope to shed light on Asia fuelling the demand that drives the brutal killing of important and endangered species. As we travel within Asia, especially to countries such as China, Thailand and Vietnam, where illegal wildlife products are in demand and readily available, we urge everyone not to purchase or consume these products. Any product that lists ingredients from the tiger and rhino is illegal," said Ms Elaine Tan, CEO, WWF Singapore.
The public is encouraged to pledge not to buy products derived from illegally traded wildlife through WWF Singapore's Facebook page (http://www.facebook.com/wwfsg) and website (www.wwf.sg). Apart from products containing ingredients from the elephant, tiger and rhino, other products, such as those made from bear bile and pangolin scales, should also be avoided.
---