L'hippocampe illégal - des vertus en médecine traditionnelle
Cambridge, UK, 19 Août 2009—Une compagnie Polonaise a été reconnue coupable d'importation de 14 tonnes de "Ginjal", un remède contenant de l'hippocampe en poudre, ce qui est illégal selon la loi Polonaise de la Conservation de la Nature, mais selon la court les sanctions devraient être retenues contre la compagnie de fabrication.
---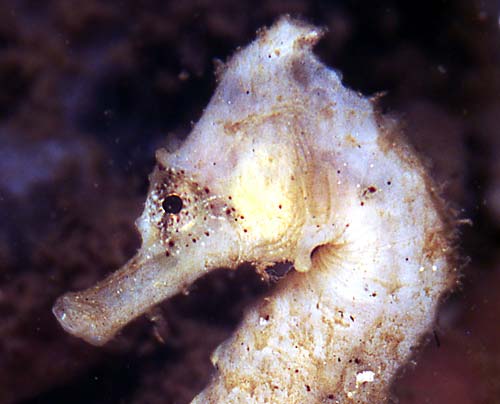 "Les comprimés illégaux ont été confisqués, et ne pourront ainsi jamais rejoindre le marché local" a commenté Magdalena Romanowicz, Chef de l'initiative de réduction du commerce illégal des espèces sauvages de WWF Pologne. Le Ginjal est fabriqué en Indonésie exclusivement pour alimenter le marché Polonais et utilisé comme traitement des infections urinaires.
Un des principaux ingrédients de ces comprimés est la poudre d'hippocampe, qui est enregistré dans l'annexe II de la CITES (the Convention on International Trade in Endangered Species of Wild Fauna and Flora), et exige ainsi des permis pour sa commercialisation internationale.
Le Ginjal a été disponible en Pologne pendant les 5 dernières années, et selon les douaniers polonais, la compagnie mise en cause, Cowik, aurait importé un total d'environ 135 millions de comprimés depuis 2004, sans aucune documentation exigée.
Ceci est l'équivalent d'environ 27 tonnes de poudre hippocampe où entre 2-4 millions d'animaux au cours des six dernières années.
Bien que la Police et les douanes polonaises aient émises des interrogations sur la légalité de l'importation du Ginjal à plusieurs reprises, aucune mesure n'a été prise, parce que ce médicament avait été validé par le Ministère de la Santé.
"Ceci indique clairement qu'une plus grande communication entre les autorités polonaises est nécessaire: des médicaments introduits sur le marché polonais devraient non seulement être examinés pour s'assurer de la conformité des normes, mais être également en adéquation avec la réglementation environnementale en vigueur, afin de s'assurer que les espèces en danger ne seront pas menacées dans le futur," a déclaré Romanowicz.
"La tradition de l'usage du Ginjal en Pologne montre clairement qu'un déficit d'action efficace par les administrations nationales a permis à un marché illégal d'exister pour un produit qui ne devrait jamais figurer dans nos rayons " a-t-elle ajouté.
---