Huge pangolin seizure in China
Beijing, China, 13th July 2010—Customs officers in Guangdong, China, have seized more than 7.8 tonnes of frozen pangolins and 1,800 kg of pangolin scales from a fishing vessel after it was stopped for inspection at Zhuhai's Gaolan Island. 
---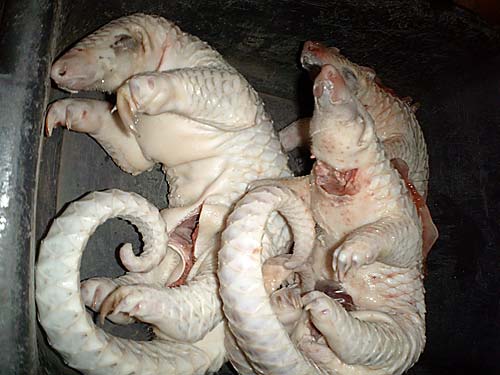 International trade in Asian pangolin species is banned under CITES (the Convention on International Trade in Endangered Species of Wild Fauna and Flora). Two of the four species are classified as Endangered by IUCN. 
The suspect fishing vessel was sighted by a Guangdong Jiangmen Customs patrol boat in the Chuandao sea area late in the evening of 5th June and boarded in the early hours of the following morning when 2090 frozen pangolins each weighing between 1–10 kg and 92 cases of pangolin scales were found. 
The crew were arrested and included 5 Chinese and a Malaysian national, who claimed they had been hired to sail the vessel from Xiangzhou Port, Zhuhai, to South-East Asia to pick up the illicit cargo. 
The Malaysian crew member was said to have received instructions by satellite phone on where to rendezvous at sea to pick up the contraband. The smugglers were intercepted before they could transfer the cargo to another vessel off Gaolan Island. 
"The use of satellite phones and trans-shipment of cargo at sea are indicative of the increasingly sophisticated methods being used by the organized criminal gangs involved in wildlife crime," said James Compton, TRAFFIC's Asia Pacific co-ordinator. 
The Chinese authorities have shared intelligence on the seizures with enforcement agencies operating in the region, including INTERPOL, World Customs Organization (WCO) and ASEAN-Wildlife Enforcement Network, plus CITES officials and are seeking co-operation with Malaysia's Ministry of Natural Resources and Environment on a joint investigation. 
"Guangdong Customs are to be congratulated on this important action against wildlife smugglers operating between South-East Asia and China," said Professor Xu Hongfa, Director of TRAFFIC's China Programme. 
"TRAFFIC stands ready to support international co-operation between enforcement agencies that will ensure those who organize and mastermind such wildlife crimes, as well as those who carry them out, are made to face the consequences of their actions," added Compton. 
A China Customs official quoted by the State news agency, Xinhua, noted that between 2007 and the end of June 2010 a total of 292 cases involving the smuggling of endangered species had been investigated in China. In total, 38,599 animal parts had been seized, weighing a total of 26.63 tonnes plus more than 55 tonnes of 2,753 rare plant varieties. 
---