Sustainable management of biodiversity key to business—TEEB
London, UK, 13th July, 2010—More than 80 percent of consumers surveyed said they would stop buying products from companies that disregard ethical considerations in their sourcing practices, according to a recent survey highlighted in the latest study for business by The Economics of Ecosystems and Biodiversity (TEEB) project.
---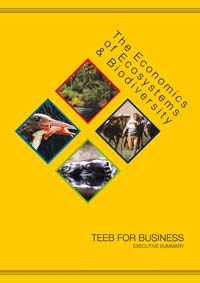 The report also found rising awareness among consumers about biodiversity loss, with 60 percent in America and Europe and 90 percent of those surveyed in Brazil aware of the problem. 
"Sustainable sourcing is becoming the principal reason why some consumers chose one product over another and businesses should take note," said Steven Broad, Executive Director of TRAFFIC. 
"Sustainable harvesting lies at the core of TRAFFIC's mission, and has been central to the development of various conservation initiatives, such as the FairWild Standard for harvesting of wild plants." 
The TEEB study also found that business leaders in biodiversity-rich developing economies were concerned about losses of "natural capital." 
Over 50 percent of Chief Executive Officers (CEOs) surveyed in Latin America and 45 per cent in Africa regarded declines in biodiversity as a challenge to business growth. In contrast, fewer than 20 percent of their counterparts in western Europe shared such concerns.
The "TEEB for Business" report indicates that scrutiny of big business and its impacts on the world's natural capital is likely to intensify as better evaluations and assessments come to the fore.
"Better accounting of business impacts on biodiversity—both positive and negative—is essential to spur change in business investment and operations," said Joshua Bishop, the TEEB for Business report co-ordinator and Chief Economist of IUCN. 
"Smart business leaders realize that integrating biodiversity and ecosystem services in their value chains can generate substantial cost savings and new revenues, as well as improved business reputation and licence to operate."
The TEEB for Business report is available at www.teebweb.org. 
The TEEB project is hosted by the United Nations Environment Programme and supported by the European Commission; the German Federal Environment Ministry; the UK Government's Department for Environment, Food and Rural Affairs; UK Department for International Development; Norway's Ministry for Foreign Affairs; The Netherlands' Interministerial Program Biodiversity; and the Swedish International Development Cooperation Agency.
---