France to destroy ivory stockpiles
Paris, France, 6th February 2014—France today becomes the latest country to destroy its ivory stockpiles, following recent public ivory destruction events in Gabon, the Philippines, USA, China and an announcement by Hong Kong that it intends to destroy 28 tonnes of stockpiled ivory. 
---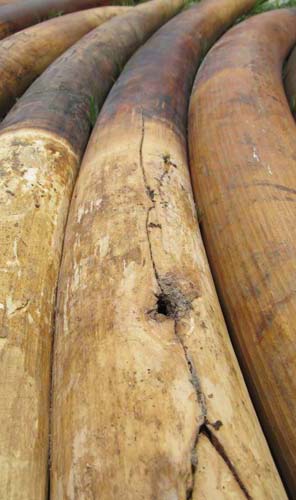 More than 15,000 ivory pieces seized by French Customs at Roissy Paris airport over a 21-year period between 1987 and 2007 will be destroyed, weighing a combined total of three tonnes. 
Much of the ivory represents trinkets seized from tourists who unwittingly fuel the ivory trade by making unwise purchases in the world's unregulated ivory markets, only to have them seized upon re-entry back home as violation of international wildlife trade law. 
ONCFS, France's National Office for Wildlife & Hunting, last month compiled an inventory of the tusks, raw and carved ivory pieces that were destroyed. 
The government said in a statement the action was carried out in order to demonstrate the country's solidarity with Africa and its national determination to join the global fight against wildlife crime. 
France becomes the first European country to carry out a public destruction of some of its government-held ivory stockpile: it follows an announcement made last December by the President of France, François Hollande, at a high level Round Table meeting on ivory trafficking and poaching of elephants and other threatened species, held just prior to the Elysée Summit for Peace and Security in Africa. 
"France's move today sends a strong message to a European audience—particularly French tourists and businessmen—that buying ivory as souvenirs directly contributes to the elephant crisis we face today," said Tom Milliken, TRAFFIC's ivory trade expert. 
"But frankly speaking, there is likely to be more impact from ivory destruction events in major consumer countries like China. Beyond influencing local consumers, however, the jury is still out on what effect destruction events like this have on the dynamics of illegal ivory trade." 
Classic economic theory holds that reduced supply in the face of strong demand could lead to increased prices, a prospect that could stimulate profit-seeking criminals to poach more elephants and traffic more ivory. 
"We need to monitor the situation closely now and see what impact, if any, this string of ivory destruction events has produced," said Milliken.  "The evidence should tell us if we are on the right track, or if all of this supply reduction has been counter-productive." 
Next week, Heads of State and Foreign Ministers from around 50 countries meet in London at a summit hosted by UK Prime Minister David Cameron, Foreign Secretary William Hague and Secretary of State for the Department for Environment, Food and Rural Affairs Owen Paterson. WWF-UK president, HRH The Prince of Wales and his son HRH The Duke of Cambridge will also attend London Conference events. 
The Conference will seek commitments from key priority governments to combat the growing global threat posed by illegal wildlife trade.
---