TRAFFIC and WWF welcome the EU's increased controls on the trade in captive tigers
The EU has released guidance to increase the controls on the trade of captive-born and bred live tigers and their parts and derivatives. TRAFFIC and WWF welcome this initiative and will continue to support Member States in implementing the guidance, as well as advocating for improved oversight of captive tiger populations across the EU.
---
Poaching and illegal trade of tigers and their parts and products is the greatest immediate threat to wild tiger populations, and poorly managed captive tigers can both perpetuate the demand for tiger parts and products and provide cover for the illegal trade of wild tigers and their parts. 
New Guida​​​​​​nce released on Tuesday by the European Commission will increase controls on ​​the commercial trade of ​live ​captive-bred tigers, and their parts and derivatives ​with other countries or ​within the bloc, with only a few exemptions, to help ensure the EU does not play a role in the illegal trade in tigers.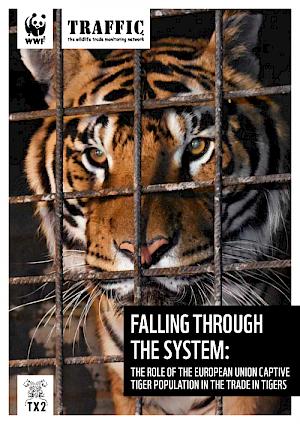 TRAFFIC and WWF welcome this result, having included such guidance as a recommendation in their joint report Falling Through the System: The role of the European Union captive tiger population in the trade in tigers. The report released in 2020 revealed the EU's 'unlikely' role in tiger trade detailing how Member States were issuing ​​​​permits that allowed the commercial trade in tigers and their parts and products from the EU to other countries, on the basis of the animals having been captive bred. This included exports to countries in Asia which have concerning levels of illegal tiger trade, with Thailand and Viet Nam being the largest importers. It also profiled shortcomings on the control and management of EU facilities keeping tigers, which could provide opportunities for criminal activities.  
This is an important step in the global fight to end illegal tiger trade and we commend the EU for showing leadership on this matter. It sends a clear message of the threats that wild tiger populations​ ​face and that the EU is committed to halting any opportunity for illegal trade involving captive tigers from the EU."
Louisa Musing, TRAFFIC's Senior Programme Officer – Europe, and author of the 2020 report
While EU Guidance documents are not legally binding, they have been adopted by all Member States and so demonstrate a strong intention to interpret and implement the EU Wildlife Trade Regulations as set out in the document. ​​​​Following the adoption of this EU Guidance document, Member States should now not grant export or re-export permits, or intra-EU trade certificates for live captive-born and bred tigers and their parts and products, unless the trade is for purposes that are not detrimental to the conservation of the species (e.g. licenced zoos, scientific research, law enforcement or museum collections). 
Trade in captive bred tigers both within and outside of their natural range undermines efforts to protect wild tigers and halt the illegal trade by complicating enforcement activities, and by normalising and legitimising the sale of tiger parts and products, which in turn can drive consumer demand."
Heather Sohl, WWF Tiger Trade Lead
TRAFFIC and WWF also urge Member States to implement additional recommendations laid out in the guidance including records on tiger numbers to be held centrally and for regular inventories to be conducted. We also urge for the implementation of further controls, as recommended in the 2020 TRAFFIC/WWF report, such as ​establishing ​protocols for disposal of deceased specimens, collecting DNA samples and stripe patterns from all tigers in captivity, and targeting investigations to dismantle criminal networks. 
"The implementation of these extra measures, in addition to the new EU Guidance, will provide the Member States with a comprehensive and up-to-date oversight of captive tiger populations helping control illicit activities involving tigers born or bred within and beyond the EU."
Louisa Musing, TRAFFIC's Senior Programme Officer – Europe
This Guidance from the EU comes on the heels of the United States's passage in December 2022 of the Big Cat Public Safety Act, a law that will ensure central regulation and accounting for their captive big cats to better ensure they cannot filter into the illegal tiger trade. TRAFFIC and WWF welcome these moves by the EU and the USA to do their part, and encourage countries of concern in Asia, that pose the greatest threat to wild tiger populations, to close legal loopholes, increase tiger crime law enforcement and phase out tiger-keeping facilities that may be involved in illicit activities to put an end to their role in the illegal tiger trade.
---