Over 2,000 Pig-nosed Turtles fly home to a troubled future
Kuala Lumpur, Malaysia, 6th February 2014—Over 2,000 smuggled Pig-nosed Turtles seized in Hong Kong last month have made the long trip home to Indonesia where authorities have foiled the trafficking of thousands more of these sought-after turtles since early January.
---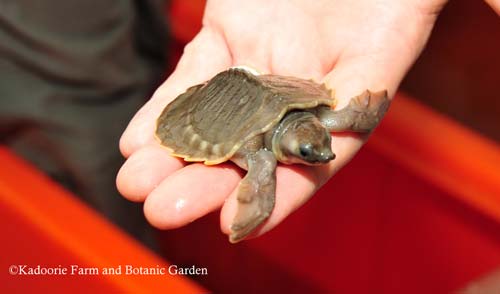 This case represents almost a quarter of the 11,122 Pig-nosed Turtles reported to have been seized in Indonesia and Hong Kong in just the first month of this year. 
This huge figure, which amplifies the growing threat of illegal wildlife trade, includes a seizure of 2,968 Pig-nosed Turtles in Jakarta's Soekarno-Hatta Airport on 7th January and 5,400 more in Papua province shortly before that.
The 2,264 live Pig-nosed Turtles repatriated on Tuesday were part of an original seizure of over 2,754 turtles by the Hong Kong by the Agriculture, Fisheries and Conservation Department on 12th January.  
The turtles that survived the smuggling attempt were cared for by the Kadoorie Farm and Botainic Garden before being repatriated to Jakarta. 
The Pig-nosed Turtle Carettochelys insculpta is listed as Vulnerable by the IUCN Red List of Threatened Species. While threatened by habitat loss and collection for local consumption in Papua, the turtle's greatest threat remains illegal trade for the international pet market.
The turtles are listed in Appendix II of CITES (the Convention on International Trade in Endangered Species of Wild Fauna and Flora), but are protected in all three range States – Australia, Indonesia and Papua New Guinea – making any international trade illegal. However, TRAFFIC's research has revealed that thousands of Pig-nosed Turtle hatchlings continue to be collected for the trade, aided by poor regulation of laws, weak enforcement and poor governance.
"The numbers are damning for Pig-nosed Turtles and for Indonesia which continues to be one of the world's most significant hubs of illegal wildlife trade," said Dr Chris R. Shepherd, Regional Director for TRAFFIC in South-East Asia.
Although authorities in Indonesia traced one shipment to an address in Jakarta, including a contact number, they have yet to make any arrests. Similarly, no arrests have been made in Hong Kong, which is fast turning into the preferred destination for Pig-nosed Turtle traffickers. 
In recent years Indonesia stopped two Hong Kong bound shipments of Pig-nosed Turtles - one carrying 687 turtles last April and another with 3,500 turtles in February 2010. In October 2011, Hong Kong seized an Indonesian shipment of 800 Pig-nosed Turtles.
"While the seizures demonstrate that authorities are vigilant, how long are we to sit and watch this cycle of seize-and-return? There is little hope for the Pig-nosed Turtle if we don't see a more co-ordinated and concerted effort by both Indonesia and Hong Kong to address the main players in the demand and supply of these turtles, " said Shepherd.
TRAFFIC calls on Indonesia to track down the individuals perpetuating the large-scale collection and trade in Pig-nosed Turtles and put an end to their business. TRAFFIC would also like to see Hong Kong investigate the importers and businesses that receive and illegally sell these turtles to consumers.
---