ETIS workshop held in DRC
Kinshassa, Democratic Republic of Congo, 3rd June 2009—representatives of institutions involved in the implementation of wildlife regulations from across the Democratic Republic of Congo (DRC) met in Kisangani in the country's Eastern Province this May to learn about ETIS, the Elephant Trade information System. 
---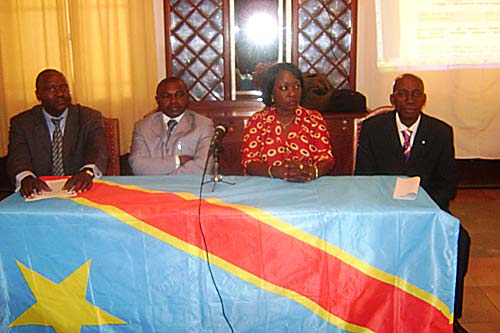 ETIS is the world's most sophisticated database of elephant ivory seizures, and is operated by TRAFFIC on behalf of parties to CITES (the Convention on International Trade in Endangered Species of Wild Fauna and Flora). 
Delegates to the workshop learned techniques for gathering information for filing ETIS reports and also about other aspects of elephant conservation, including the Monitoring of Illegal Killing of Elephants (MIKE) programme. 
The 60 participants included representatives from the Department of the Environment, Tourism and Nature Conservation (MECNT), the Congolese Institute for the Conservation of Nature (ICCN), the Congo Institute of Zoological and Botanical Gardens (IJZBC), Customs and Excise (OFIDA), Fauna Resources and Hunting (DRFC), the Central Bank, and the national police and armed forces.
Participants recommended designating a focal point for ETIS within ICCN; updating elephant seizure information held and forwarding it to the ETIS focal point; the circulation of a draft ETIS handbook to participants for comment; information about ETIS to be circulated within MECNT; and for similar training sessions to be held elsewhere in the DRC. 
The meeting took place under the patronage of MECNT and was organized by ICCN supported by TRAFFIC's Central Africa Programme and was made possible thanks to the financial support of the French Ministry of Ecology, Energy, Sustainable Development and Territory Management (MEEDDAT) and WWF France. 
---