Arrest of Cambodians highlights rising poaching concerns in Malaysia's protected areas
Kuala Lumpur, Malaysia, 26th May 2009—Three Cambodian poachers with a stash of Wild Boar and argus pheasant meat, agarwood and snares have been nabbed by the National Parks and Wildlife Department (Perhilitan) at their hideout in a forest reserve in Malaysia's northern state of Perak.
---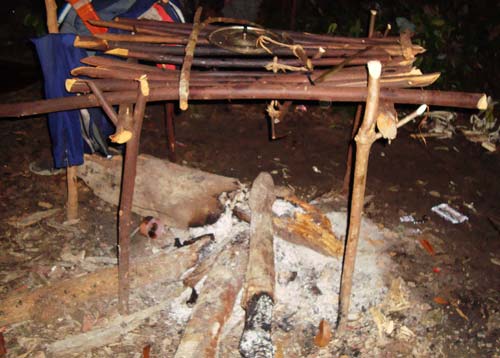 The trio was part of a larger group of seven men who had been poaching protected species in the Bintang Hijau Forest Reserve in Ulu Lawin, near the town of Gerik.
Perak Perhilitan director Shabrina Mohd Shariff said the department deployed a team of 15 enforcement officers on Saturday after a tip-off.
"My men managed to catch three of them while the rest slipped into the forest under the cover of darkness," she told the press.
The seven, who had earlier hunted the protected animals in the forest, were resting when they were surprised by enforcement officers.
Officers seized 9.5 kg of smoked Wild Boar meat, 1.9 kg of smoked Wild Boar meat with heads, ribs and limbs, 1.4 kg of argus pheasant meat, 2.6 kg of agarwood and a sack full of argus pheasant feathers.
They also found 52 snares of various sizes, four machetes and three axes.
"TRAFFIC applauds the department and urged it not to stop at catching poachers, but to follow the trail to the illegal wildlife traders they supply," said Julia Ng, TRAFFIC Southeast Asia's Senior Programme Officer.
"These traders must also be caught, prosecuted and handed out the maximum permissible fines, as they are the ones that fuel the demand for wildlife from the poachers," she added.
Poaching in protected areas is an issue of increasing concern in Malaysia, and the high market value of agarwood, known as gaharu in the Malay language, is often the reason for organized groups spending long periods in the forest, feeding themselves on whatever wild animal species they can capture.
Areas like the Bintang Hijau Forest Reserve where the Cambodian poachers were arrested are home to many threatened species such as Sumatran Rhinoceros, Clouded Leopard and Sambar deer.
The area is also is an important tiger landscape as outlined in Malaysia's National Tiger Action Plan and it is not the only area being targeted by poachers.
The State of Perak which lies in the north and borders Thailand has already seen several arrests of poachers in protected areas this year after authorities stepped up enforcement efforts.
On 15th January, officers from Malaysia's Anti-Smuggling Unit detained two Thai nationals attempting to smuggle seven Pig-tailed Macaques from a forested area in Bukit Berapit, near the Malaysia–Thailand border. They were sentenced to a MYR4,500 (USD1,282) fine or two months jail each.
On 4th March, three more Thai nationals were caught with several protected birds in Felda Kelian Intan, in Pengkalan Hulu district. The case is now before the courts.
In operations on 28th and 29th April in Sungai Mendelum, which lies within Perak state's premier park—the Royal Belum Forest Reserve—authorities also uncovered poaching camps and confiscated six wire snares. 
WWF-Malaysia's previous surveys in Perak have also found signs of local and foreign encroachment and poaching along highways that provides the access points into such forest complexes.
---