Wildlife detector dog programme a first for China
Ruili, China, 10th June 2013—China is all set to begin using detector dogs to assist enforcement officers to locate wildlife contraband, the first time the technique has been used in the country. 
---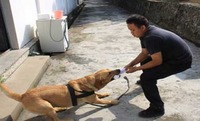 Three Labradors are currently being trained at the Ruili Drug Detector Dog Base, Anti-smuggling Bureau of the General Customs in Yunnan province and are expected to make their enforcement debut later in 2013. 
Ruili is the largest drug detector dog training base in China, supplying trained dogs to Customs departments across mainland China and Hong Kong. It also serves as the Detector Dog Training Centre in Asia for the World Customs Organization (WCO).
The wildlife detector dog programme in China was started following the International Symposium on Wildlife Detector Dogs, held by China General Customs and TRAFFIC in November 2011.
Training of the first dedicated wildlife detector dogs began this March, with TRAFFIC offering technical support to the programme, including on the selection of dogs and the training methodology. 
Once fully trained, the animals will help Customs officers patrolling China's southern border check passengers, their luggage and cargos for contraband wildlife products such as Tiger bone, ivory, rhino horn, pangolin scales and live reptiles.
Experience from the initial programme will be used to scale up the training of wildlife detector dogs for other enforcement agencies, such as China's Forest Police and Border Police.
"Illegal wildlife trade is increasingly being recognized as a serious crime and enforcement agencies need to be equipped with the best, new and innovative techniques to help them counteract it," said Xu Ling, Senior Programme Officer with TRAFFIC's China programme.
TRAFFIC estimates one dog and its handler can carry out a relatively thorough search of passengers and their baggage for wildlife contraband in the same time it would take 36 Customs officers to perform a cursory examination. 
"TRAFFIC is delighted to be at the forefront of introducing the use of wildlife detector dogs into China and is standing by to help the authorities extend the programme further," said Xu.
TRAFFIC's detector dog programme in China is generously supported by WWF Germany.
---