Deforestation, degradation and illegal logging in the Amazon
Quito, Ecuador, January 2009—TRAFFIC joined forces with  CORAPE, co-ordinators of community radio shows in Ecuador, to raise the issues of deforestation and illegal logging in the Ecuadorian Amazon. Community radios play a crucial role in influencing the political work of local communities, indigenous peoples, and the population in general in the country. 
---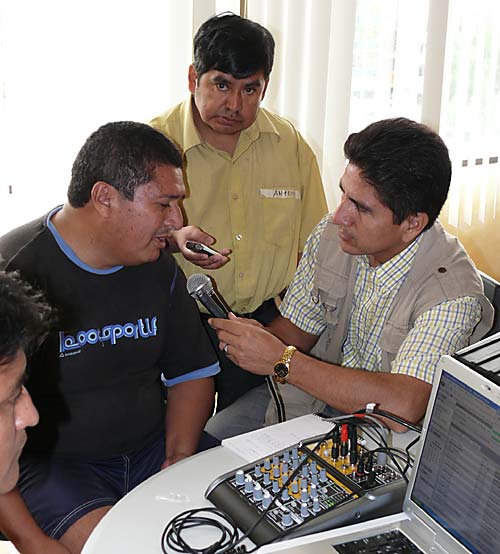 The Amazon is the largest tropical forest reserve in the world. On its western side, along the Andes mountain range, are some of the most biodiverse areas in the world. The Amazon basin is also the largest reservoir of freshwater on the planet.
The Amazon forests, as well as the indigenous communities and peoples whose livelihood depends on the forest, are severely threatened by the conversion of forest to agricultural uses, including soybean and African palm monocultures, livestock, production of biofuels, and by poor forestry practices and illegal logging.The area is also impacted by the oil and mining industrries, severely affecting human health and that of the ecosystem.
In order to raise awareness and develop skills in using Amazonian community radio stations, a workshop was held where specialists from community radio stations joined forestry and other experts to discuss forestry issues in Ecuador, with the aim of developing new and innovative ways to work together.
The topics discussed included analysis of threats to the Amazon forest, illegal logging, current forestry policies of the Ministry of the Environment. Proposals were presented to solve some of these critical problems, at the local and national levels. 
---