Seized pangolins should be destroyed—TRAFFIC
Kuala Lumpur, Malaysia, 8th January 2009—just two months after a major auction of seized pangolins in Hai Phong, Viet Nam, Customs officials seized another 4,400 kg of frozen pangolins and 900 kg of pangolin scales in Cai Lan seaport, Quang Ninh, Viet Nam. 
---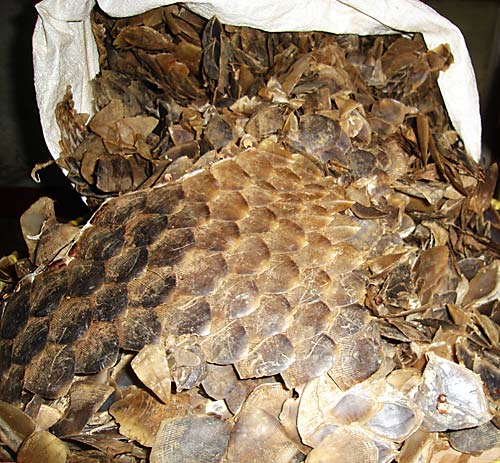 The proximity of the two events, as well as the similarity in the size and packaging, has called into question the origin of the newly seized pangolins, with some speculating the shipment may have at least partially been sourced from the pangolins auctioned in October 2008. The latest seizure took place on 19 December 2008.
The animals auctioned in October originated from seizures that took place on 29 February and 6 March 2008, when more than 6 and 17 tonnes respectively of frozen pangolins and scales were seized at the port of Hai Phong by Custom officers. The pangolins had been shipped from Indonesia and were en route to China. Following the auction, it is understood the pangolins had been successfully transferred to the winning bidder, but a lack of transparency has made it difficult to ascertain either where or to whom the auctioned pangolins have gone. 
At the time of the auction, TRAFFIC, the wildlife trade monitoring network, expressed deep concern over the decision and wrote to the authorities in Viet Nam to call on them to reconsider their decision. 
"Selling off the seized pangolins sent out entirely the wrong message," said Sulma Warne, TRAFFIC's Greater Mekong Programme Co-ordinator. "Whilst it was permissible under Vietnamese law, it undermined the very enforcement efforts that led to the seizure, for which the Government received much-deserved praise." 
"This latest seizure in Quang Ninh re-affirms the need to destroy all seized wildlife products, as sell-offs such as the one in October only help to increase demand for pangolins in the region. We call on the authorities to think carefully about how they deal with the seized pangolins in this case," he added. 
In July 2008, Indonesian National Police raided a warehouse, seized nearly 14 tonnes of frozen pangolins as well as 50 kg of scales, and arrested 14 suspects. The meat and scales were destroyed. 
"With this new seizure, Viet Nam has another chance to make good on their progress towards protecting pangolins by following the positive example from Indonesia," said Chris Shepherd, Senior Programme Officer for TRAFFIC Southeast Asia. 
An estimated minimum of 100,000 pangolins (also known as scaly anteaters) per year are needed to supply the Chinese demand for pangolins scales for use in traditional medicines. Currently, pangolins are mostly harvested in Malaysia and Indonesia and trafficked through the Greater Mekong region for consumption mostly in China, but also increasingly in Viet Nam. 
Commercial international trade in pangolins is banned under CITES (the Convention on International Trade in Endangered Species of Wild Fauna and Flora), yet pangolins continue to be the most frequently seized mammals in illegal wildlife trade in the region. 
Viet Nam and Indonesia are members of ASEAN Wildlife Enforcement Network (ASEAN-WEN), a partnership that seeks to end illegal cross-border wildlife trade in the region. 
Local hunters throughout Southeast Asia report that pangolins are becoming increasingly scarce. The threat category of both Chinese Pangolin and Malayan or Sunda Pangolin changed from Lower Risk/near threatened to Endangered in the revised IUCN Red List of threatened species launch in October 2008. This indicates scientists consider they face a high probability of extinction in the near future. 
"There is a crucial need to move pangolin conservation up the political agenda," added Shepherd. "It's now or never for pangolins."
---