Malaysia's Tigers thrown a lifeline
Update: Dismembered Tigers seized in Thailand
Just days after the Action Plan to protect Malaysia's Tigers was announced, Thai Police discovered the partly dismembered carcasses of four Tigers on a truck in Prachuap Kiri Khan province.
The animals were believed to be from Malaysia and were being smuggled to China. Two men were arrested.
"The gruesome discovery is a potent indicator of the seriousness of the threat posed by poaching to South-east Asia's last surviving Tigers, and the urgency with which the issue needs to be addressed," said Azrina Abdullah, Regional Director of TRAFFIC Southeast Asia.
Petaling Jaya, Selangor, Malaysia, 23rd December 2008—Conservation groups today welcomed the release of the much-anticipated National Tiger Action Plan for Malaysia, calling the Plan an important milestone in Tiger conservation in the region.
---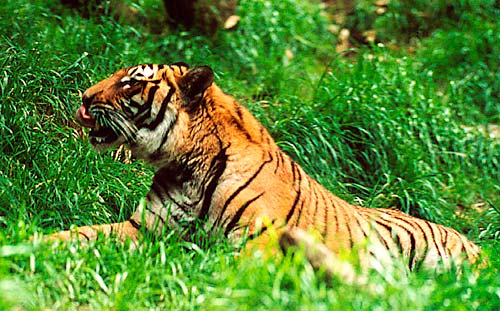 The Plan aims to have 1,000 wild Tigers surviving on wild prey in the Central Forest Spine by 2020, through securing key forests areas in landscapes connected with corridors, providing long-term on-the-ground protection of Tigers and their prey, and promoting ecologically sound land-use practices. It prioritizes three core areas; the Belum-Temengor Complex, the Greater Taman Negara Complex and the Endau-Rompin Complex. 
TRAFFIC Southeast Asia, the Malaysian Nature Society (MNS), Wildlife Conservation Society (Malaysia Programme) and WWF-Malaysia are all ready to help implement the 12-year plan alongside relevant government agencies, to help secure and increase the number of wild Tigers in Peninsular Malaysia. 
"A well co-ordinated effort between agencies at both the state and federal level, with non-governmental agencies, is necessary to ensure the effective implementation of the Action Plan", said Azrina Abdullah, Regional Director of TRAFFIC Southeast Asia. 
"Killing of Tigers in Malaysia and the region is the most urgent threat to their survival. Therefore, more concerted efforts must be put into enforcement actions matched with adequate resources."
Dr Loh Chi Leong, MNS Executive Director, commented: "While this Plan is aimed at primarily saving the Malayan Tiger, it will support our broader national conservation priorities through cross-sectoral issues, and bringing them together to a planned and strategic approach for implementation." 
According to Dr Melvin Gumal, Director of the Wildlife Conservation Society (Malaysia Programme): "If everyone participates and the deliverables are achieved, the whole is going to be definitely more than the sum of its parts—more Tigers, more prey and ecologically sustainable forests, all of which will benefit Malaysians and humanity."
The foundations for the Plan began with a National Tiger Conservation Workshop in 2006 hosted by the Malaysian Government's Department of Wildlife and National Parks (DWNP) in collaboration with MNS, TRAFFIC Southeast Asia, Wildlife Conservation Society (Malaysia Programme) and WWF-Malaysia, under the Malaysian Conservation Alliance for Tigers (MYCAT) platform. Other agencies involved in its development included the Department of Forestry Peninsular Malaysia and Department of Town and Country Planning Peninsular Malaysia. 
The Plan uses existing government policies and legislative structures relevant to wildlife conservation such as the National Policy on Biological Diversity, National Physical Plan and National Forestry Policy. 
Although implementation of some actions has already begun, a key challenge will be implementation at the State level, as the Plan is still a Federal policy document. 
"This Plan will bring a higher sense of transparency and accountability to the processes and actions required to save Malaysia's remaining wild Tigers," said Dato' Dr Dionysius Sharma, CEO of WWF-Malaysia.
"Now, let's show the world that Malaysia can, and will work together to ensure that one of Earth's most iconic species will continue to thrive in our forests."
The National Tiger Action Plan for Malaysia 2008 - 2020. (PDF, 5.4 MB). 
---