Pukka Herbs launches FairWild-certified herbal tea
London, UK, 5th July 2012—To celebrate its tenth anniversary, Pukka Herbs has launched a new blend of organic peppermint and FairWild-certified licorice tea.
---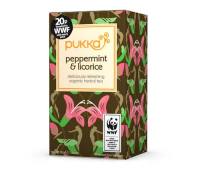 The licorice originates from Kazakhstan, and was especially selected because it meets the FairWild Standard for sustainability and fair trade. 
The FairWild Standard was developed by TRAFFIC, WWF and other FairWild Foundation partners to ensure those collecting wild plant ingredients harvest the produce sustainably and receive a premium price for their efforts. 
It is the first time consumers in the UK will be able to buy a product featuring the FairWild logo. 
The UK is Europe's third largest importer of medicinal and aromatic plants (8.5% of total EU imports, by value), the majority of which are wild harvested. Up to 90% of the UK's requirements are sourced from abroad. Ensuring the market's supplies are from sustainable sources is vital for conservation reasons and for the thousands of workers involved in the industry. 
"We are delighted herbal tea market-leader Pukka Herbs is embracing the FairWild Standard as the mark of sustainability for wild-harvested plant ingredients," said Anastasiya Timoshyna, TRAFFIC's expert on wild medicinal plants.
"Consumers can buy products containing FairWild-certified ingredients with confidence, knowing the wild plant harvesters and producers are receiving a fair price for their produce." 
As an added bonus, for every packet sold, Pukka Herbs is donating 20p to WWF-UK to support wild plant conservation projects around the world. The partnership aims to raise over GBP50,000.
Commenting on the partnership, Rachel Bloodworth from WWF said: "We are delighted to be working with Pukka Herbs in their tenth birthday year - their dedication to supporting the natural environment and creating a beautiful world is perfectly aligned with our goals. 
"Over the past 50 years, WWF has achieved countless successes from preserving existing species such as mountain gorillas and giant pandas, to helping the development of international agreements for the protection of the planet - none of which would be possible without the continued support of dedicated individuals and companies like Pukka."
Inspired by the idea of connecting people with the power of plants, Tim Westwell (creative entrepreneur) and Sebastian Pole (herbalist and Ayurvedic practitioner) created Pukka Herbs and launched a trio of organic herbal teas in 2002. 
A decade later, Pukka Herbs has a range of 25 award-winning teas, a skincare collection and food supplements sold in 40 countries around the world.
"When we started Pukka Herbs in 2002, we wanted to create a totally organic business that inspired people to live healthier, more sustainable lives; partnering with WWF to promote our shared conservation values seemed the perfect next step," said Sebastian Pole, co-founder and director of Pukka Herbs. 
"Our new Peppermint & Licorice tea is a naturally caffeine-free, delicious blend of refreshing peppermint to support digestion, and containing naturally sweet, soothing FairWild licorice to calm and nourish. 
"I hope consumers will feel good knowing that as well as taking care of themselves, they're also doing their own little bit to create a more beautiful world too."
---
Notes:
The FairWild Standard was developed through a multi-stakeholder consultation process, with the involvement of a number of different organizations including WWF and TRAFFIC. It is now maintained by the FairWild Foundation, established in 2008 to promote the further development and uptake of the Standard's principles. For more details, see www.fairwild.org

Earlier this year, Licorice was named medicinal plant of the year in Germany. It was chosen because of its paramount importance to human well-being world-wide. The licorice plant is a woody shrub native from the Mediterranean to East Asia, the Americas and Australia. Only the root of licorice is utilized, from which a wide variety of compounds—400 to date—have been isolated. Among the most important is glycyrrhizin, a chemical that possesses almost 50 times the sweetening power of cane sugar. Today, licorice is used as an important ingredient "gan cao" in traditional Chinese medicine (TCM), while in Germany, Europe's major consumer and trader in medicinal plants, around 500 tonnes of licorice are imported each year, 100 of them consumed domestically in medicinal teas. The root is also used in confectionary and in many herbal liqueurs. In Japan, licorice is used mainly in medicine although also as an ingredient of cosmetics.

Pukka Herbs now sells a wide range of herbal remedies, bio nutrients, healthy oils and food supplements as well as 23 varieties of tea, all inspired by the ancient Indian philosophy of Ayurveda – 'the art of living wisely'.  A selection of the teas are stocked by leading UK retailers and independent health stores, while the complete range is available online at www.pukkaherbs.com. 
---