Indonesia kicks off 2021 with a bumper crop of bird seizures
A new year has shown no let up in Indonesian authorities' efforts to save wild birds, with more than 11,000 wild birds seized in January 2021 alone.
---
There were 14 seizures carried out in the Southeast Asian country known for its massive trade in wild-caught birds that feeds a national passion for bird-keeping. An estimated 11,559 birds represented by 18 Families were confiscated in nine provinces in Indonesia, a vast majority of them reportedly heading to markets in Java. The seizures involved at least 17 protected species, which are prohibited from trade by Indonesian law. Additionally, those not listed under Indonesia's protected species list were seized for being transported illegally without the necessary transportation and health permits.These seizures were made by several enforcement agencies including quarantine, police, port authorities and nature conservation agencies, with the support of conservation groups.
"It's encouraging to see so many poached birds taken out of the illegal trade chain with all these seizures. At the same time, it is nothing short of alarming to see the sheer numbers traders are attempting to traffic across the country, in some cases with multiple seizures a day," said Kanitha Krishnasamy, Director for TRAFFIC in Southeast Asia.
In an extraordinary two days on 25 - 26 January, authorities carried out two seizures on each day totaling almost 5,000 birds. Given the clandestine nature of trafficking, a far greater number of birds could have been successfully smuggled during this period. 
These seizures are important to stop the illegally sourced birds from reaching markets. But to properly tackle this, Indonesia must place equal emphasis on ridding bird markets of illegal trade and reducing the demand that is driving the trade"
Serene Chng, Programme officer for TRAFFIC in Southeast Asia.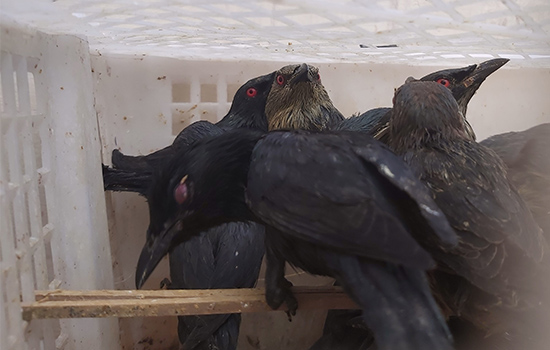 More than 50% of all birds seized (nearly 6,000 birds) in January alone, were songbirds from the Families Cisticolidae, which includes prinias and tailorbirds, and the Family Sturnidae which includes starlings and mynas.
Most of these are not currently protected but are suffering population declines in the wild due to high rates of trapping due to unregulated trade. Prinias appear to be targeted particularly in recent years, with a prominent presence in many large seizures and increasing numbers observed in markets after 2018.
Leafbirds were the most frequently seized family of birds, turning up in smaller volumes in eight of the 14 seizure incidents. All leafbirds are protected in Indonesia. While these and other songbirds sought for bird singing contests dominated the seizures, significant numbers of non-songbirds simply favoured as pets, were also seized. This included cockatoos, parrots and lorikeets. 
Lampung province recorded the most seizure incidents of any province, and almost two-thirds of all birds seized in Indonesia in January. This province sits at the southern tip of Sumatra and is a short hop to Java where some of Indonesia's largest bird markets are located. It is also the home to one of Indonesia's busiest ports, Bakauheni, which connects Sumatra to Java.
However, the largest single seizure occurred not in Lampung but in nearby Jambi province where authorities seized 2,925 birds that had been transported there without the necessary documents from further north in Sumatra. Almost 90% of the birds found in this instance were prinias. 
Media reports record nine people arrested during the course of the 14 seizures but there have been no reports of prosecutions yet.
Securing strong convictions will send the clearest message to poachers, illegal traders and hobbyists that Indonesia is serious about putting an end to the country's illegal bird trade problem."
Serene Chng, Programme officer for TRAFFIC in Southeast Asia.
Indonesia is no stranger to large scale illegal wild bird trade and massive seizures – it is estimated that more than 45,000 illegally traded live birds were seized in Indonesia from 2018 to 2019. In previous years, even more birds than seen in these January seizures were recovered from traffickers in a shorter time span.
---