Clampdown on illicit wildlife trade in Mandalay
Myanmar, 9th October 2010—Authorities in Myanmar have seized a menagerie of wildlife parts and products from a shop in Mandalay including two Clouded Leopard skins prominently displayed outside the premises.
---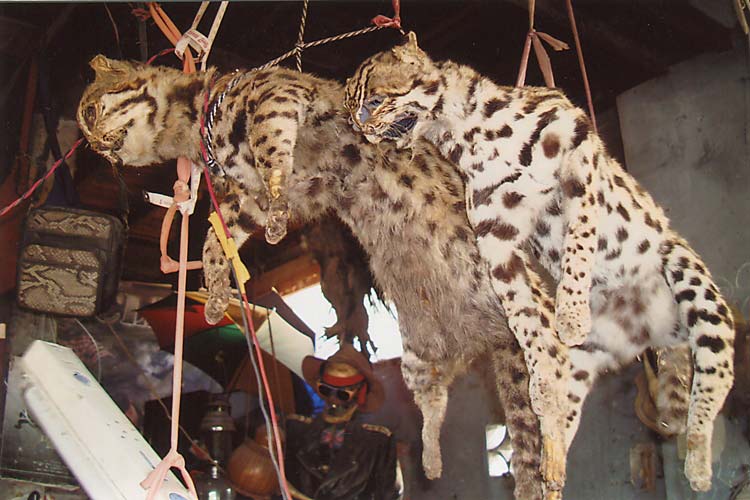 Acting on information provided by TRAFFIC Southeast Asia, enforcement officers raided the shop selling protected wildlife on 9th September.
The team, comprising officers from the Forest Department, Police and General Administrative Department, also recovered two Large Indian Civets, one Barking Deer and two stuffed Leopard Cats.
In the shop officers also found 12 Burmese Rock Python skins, three pairs of gloves, seven wallets and eight belts made from the skins of Burmese Rock Pythons, as well as one stuffed eagle.
The wildlife trader has violated the Protection of Wildlife and Protected Area Law (1994) sanction 36(a) and 37(a), and faces up to 7 years imprisonment and a fine of 50,000 Kyats (USD 7,625), or both.
Myanmar National ASEAN Wildlife Enforcement Network (ASEAN-WEN) focal point and Director of the Nature and Wildlife Conservation Division of the Ministry of Forestry  Mr Win Naing Thaw said "Myanmar is pleased to report our interagency enforcement activities and strongly  wishes to co-operate with international bodies such as CITES, ASEAN-WEN, TRAFFIC and other illegal wildlife trade suppression agencies".
Myanmar, the largest country in mainland Southeast Asia, is rich in wildlife.  However, many of these species are seriously threatened by illegal hunting and trade.  
"It's great to see such swift and decisive action in response to reports of illegal wildlife trade," says Chris R. Shepherd, Deputy Regional Director of TRAFFIC Southeast Asia.  
"Multi-agency actions, like this one, are the key to success in the fight against illegal wildlife trade and we hope these efforts will be sustained," he added.
A number of the enforcement team members are focal points for ASEAN-WEN, the platform for co-operation, information exchange and capacity building on wildlife trafficking issues in South-East Asia.
The raid is one of 11 major enforcement actions carried out in the country since May.  Raids have seen the seizure of hundreds of protected turtles and tortoises, pangolin scales, ivory, Gaur horns, various wild cat skins and Sambar Deer antlers.
"It needs to be made very clear to those involved that Southeast Asian governments are not going to tolerate these crimes," he added.
The trade in species such as the Clouded Leopard is a serious concern in Myanmar.  This totally protected species is in decline due largely to hunting for the skin trade.  TRAFFIC Southeast Asia surveys have found these skins especially common in border-town markets, along the Myanmar-Thailand and Myanmar-China borders, indicating international demand, and also indicating violations of the Convention on International Trade in Endangered Species of Wild Fauna and Flora (CITES), which prohibits the international commercial trade of Clouded Leopards. 
For further information on the trade in wild cat species in Myanmar, please see the TRAFFIC report The wild cat trade in Myanmar
---