Tortoises smuggler caught for second time in Bangkok
Bangkok, Thailand, 3rd October 2010—A previous arrest for smuggling star tortoises into Thailand wasn't enough for one Pakistani who tried again, and was caught for the second time at Suvarnabhumi International Airport on Tuesday.
---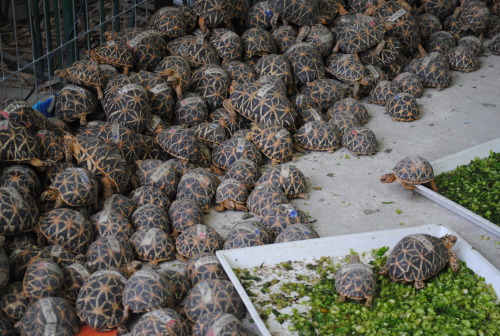 The Royal Thai Customs Investigation and Suppression Bureau and CITES Management Authority of Thailand stopped the 44-year-old who was attempting to smuggle in 1,140 live Indian Star Tortoises and a Gavial crocodile packed into four suitcases. 
The suspect was arrested in 2008 for smuggling 778 Indian Star Tortoises and had even flown the same route he took this time - from Bangladesh to Bangkok. 
The suspect was released after he posted the 100,000 Baht (USD3,300) bail on Wednesday. 
The tortoises were destined for Bangkok's popular Chatuchak market that has a notorious reputation for the open sale of trafficked wildlife. They have been sent to the DNP rescue centre.
Indian Star Tortoises are native to parts of India, Pakistan and Sri Lanka. Trade in the species has been banned by authorities in all three of these countries.  Furthermore, the Indian star tortoise is listed in Appendix II of CITES (the Convention on Endangered Species of Wild Fauna and Flora), which strictly regulates international trade in the species. 
Prized as pets in Southeast Asia, they are packed in suitcases and smuggled mainly through the region's airports for the lucrative pet market, sold in places including Chatuchak Market.
Chatuchak Market is one of the most significant hubs for trade in illegally sourced tortoises in the world.  
Surveys by TRAFFIC Southeast Asia have found that the majority of tortoises openly sold there have been brought into Thailand illegally.  Tortoises from around the world can be found for sale in the Chatuchak market, many of them being from Madagascar.
All species of tortoise from Madagascar are Critically Endangered, with illegal capture for the pet trade being the main cause for their current decline.  
The trade in the tortoises is devastating wild populations. A recent WWF survey reveals that at least a thousand terrestrial tortoises are illegally extracted from the south of Madagascar every week.
 "The illegal trade in wildlife in the Chatuchak market must be shut down", says Chris R. Shepherd, Deputy Regional Director of TRAFFIC Southeast Asia, and lead author of the 2008 report Pet freshwater turtle and tortoise trade in Chatuchak Market, Bangkok, Thailand.  
"The authorities need to show the traders that they are not going to tolerate these illegal activities anymore."
TRAFFIC applauds the Royal Thai Customs on the seizure and urges Thai authorities to hand down a sentence severe enough to serve as a real deterrent in this most recent Indian star tortoise smuggling case.
The report Pet freshwater turtle and tortoise trade in Chatuchak Market, Bangkok, Thailand
---