Celebrating Myanmar journalists who give wildlife a voice
Yangon, Myanmar, 4th March 2015—Writing on elephant poaching, rampant sale of endangered species and the demand for exotic wild meat delicacies has won five Myanmar journalists awards in a competition to raise awareness on wildlife trade in the country.
---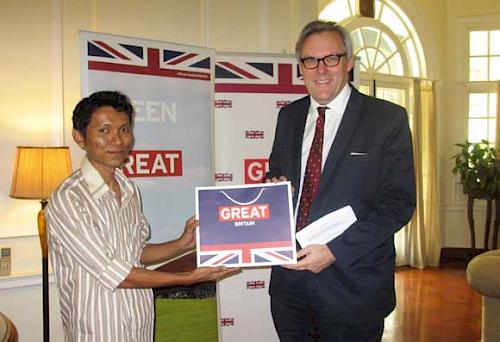 The competition was launched as part of a training programme for local journalists organized by TRAFFIC and the British Embassy in Myanmar at the end of 2014. The results were announced here on 3rd March in conjunction with World Wildlife Day.
Journalist Htet Khung Linn of The Irrawady took home the top prize for his article Unsafe Wild Elephants, which scrutinized the threats to Myanmar's wild elephant population. 
His two-page special report drew on personal accounts of local investigators looking into the illegal killing of wild elephants—describing the details, and the horrors, of their findings. It also covered issues such as the capture of young elephants for the ecotourism trade, the sale of ivory and growing demand for other elephant parts. The article made links to local poaching networks, illegal arms ownership and described the challenges of keeping wild elephants safe.
The article won Htet Khung Linn a trip to Kaziranga National Park in India where he will have the opportunity to witness wildlife, such as Greater One-horned Rhinos, Asian Elephants and Tigers, in an area where they are facing the threat of poaching to supply the illegal trade in Myanmar and beyond.
In second spot was What Would You Like to Eat?, a joint effort by journalists from 7 Day News, Zaynway Tun Tun and Khine Khine Soe. The article detailed the popularity of wild meat dishes in Yangon and the influx of Chinese and Vietnamese eateries offering special menus featuring wildlife.
An article in the Myanmar Times entitled Wildlife Trade Troubles Kyaikhtiyo Pagoda, on the open and illegal sale of endangered species and its impact on animal populations in the surrounding forests won Deputy Editor Aye Sapay Phyu and journalist Myint Kaythi the third place in the contest. 
"Burma has incredibly rich biodiversity. But this is under threat. Climate change and deforestation are reasons—but the illegal wildlife trade is key. Reporting on this important issue will be key to tackling it. I hope that our winners, and other journalists in Burma, will continue to raise this important issue in their writing," said British Ambassador Andrew Patrick, who presented the prizes.
"The threat of illegal and unsustainable wildlife trade has never been so great. Myanmar stands to lose an untold number of species, which would ultimately have negative impacts on ecosystems, quality of human life, livelihoods, and important cultural symbols," said TRAFFIC Regional Director, Dr Chris R. Shepherd.  
"We congratulate all those that took part in the competition. Raising awareness and advocating for better care of our natural world is paramount—it is not too late", Shepherd added.
---