Youth and internet giants speak out against wildlife cybercrime
Nanjing, China, 3rd March 2017—World Wildlife Day in China was marked by a public pledge from Baidu, Alibaba and Tencent—the top three internet service providers in China—to create an industry-wide alliance to tackle illegal wildlife trade online.
---
The Baidu, Alibaba and Tencent "BAT" pledge was made during a "Listen to the Young Voices" event—the theme chosen for this year's World Wildlife Day—where young people from government, associations, relevant private sector organizations and NGOs expressed their passion for protecting wildlife. 
Between them, the three BAT internet giants have hundreds of millions of global users and a significant influence on daily life and consumption patterns in China through their social media, online trade and search engine services. 
The BAT initiative to create the alliance was supported by of China's Convention on International Trade in Endangered Species of Wild Fauna and Flora of China Management Authority (CITES MA), the Wildlife Conservation Association (CWCA) and TRAFFIC.
TRAFFIC and WWF are delighted to see the three BAT companies go beyond their individual efforts to fulfill their corporate responsibilities and form an industry-wide partnership to take action against online illegal wildlife trade—this is another significant move following TRAFFIC's signing of strategic MoUs with Alibaba in 2014 and Tencent in 2015 
Zhou Fei, Head of TRAFFIC's China Office
TRAFFIC's regular online market monitoring in China has revealed an ongoing shift of illicit trade in wildlife products from physical markets to online platforms and onto social media, as a result of increasing law enforcement efforts.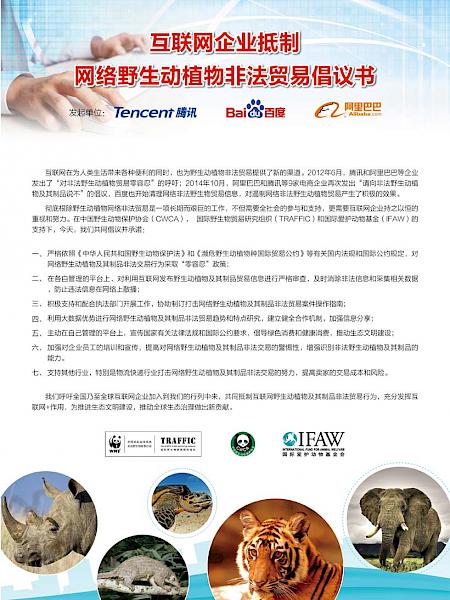 In response, Tencent has established applications whose popularity is rising rapidly on Wechat and their instant messaging platform QQ to raise awareness about the issue and allow users to report suspected illegal wildlife trade. Last September, Tencent co-hosted a side event with Chinese government agencies, TRAFFIC and IFAW during the CITES meeting in South Africa, to encourage governments to take immediate action to rein in online illegal trade. 
"Youth are the major users of the internet and also the engine of the future. We welcome how the young generation is contributing their talents to counter illegal wildlife trade in cyber space," said Qin Qi, the Director of Security Liability Programme, Information Security Department of Tencent. 
Tencent and Alibaba has also worked to remove illegal wildlife trade advertisements from their platforms: both have signed MoUs with TRAFFIC.
Zheng Qianru, Senior Security Operations Officer, Alibaba, said "We are glad to see more young people initiating wildlife protection campaigns or advocacy through online or social media platforms. Our internal voluntary 'Wildlife Club' is one of the most popular employees' clubs in Alibaba and we repeatedly try to engage the public and fulfill our responsibilities to counter online illegal trade through refining the internet environment."
Chen Hao, Baidu, said: "We hope to exchange further experiences with Alibaba and Tencent, to develop the most effective ways to combat illegal trade and initiate positive advocacy. We shall utilize our own knowledge, understanding and experience of online processes for animal protection!" 
As the first step in the alliance initiative, CWCA, WWF and TRAFFIC co-hosted a workshop where further internet companies were invited to discuss the risks of wildlife crime and draft Standard Operational Procedures (SoP)—a practical manual for online service companies to ensure their operations are unified and legally compliant. A vital tool given the newly-revised Wild Animal Protection Law in China specifically puts responsibility onto internet companies whose services are being used by traders illegally buying and selling wildlife and wildlife products. The meeting also discussed techniques and methods to detect and combat online illegal wildlife trade and implications of relevant Decisions taken at the recent CITES meeting in South Africa. 
The "Listen to the Young Voices" event in Nanjing, Jiangsu Province, was co-hosted by China's CITES MA  and Nanjing Forest Police College, supported by WWF and TRAFFIC. It attracted some 300 participants from the National Inter-agency CITES Enforcement Collaboration Group (NICE-CG), including representatives from the State Forestry Administration, Forestry Police, Customs, Ministries of Foreign Affairs and Public Security, the State Administration for Industry & Commerce, and China Wildlife Conservation Association (CWCA) and other domestic and international conservation organizations, together with relevant business and industry associations including the China Traditional Medicine Association. 
TRAFFIC's efforts to combat online illegal wildlife trade are kindly supported by WWF UK and GIZ on behalf of the German Federal Ministry for Economic Cooperation and Development (BMZ) and the German Federal Ministry for Environment, Nature Conservation, Building and Nuclear Safety (BMUB).
---
About IFAW (International Fund for Animal Welfare)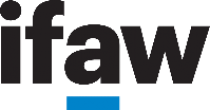 The International Fund for Animal Welfare is a global non-profit helping animals and people thrive together. We are experts and everyday people, working across seas, oceans, and in more than 40 countries around the world. We rescue, rehabilitate and release animals, and we restore and protect their natural habitats. The problems we're up against are urgent and complicated. To solve them, we match fresh thinking with bold action. We partner with local communities, governments, non-governmental organisations and businesses. Together, we pioneer new and innovative ways to help all species flourish. See how at ifaw.org.