Collaborative Partnership on Wildlife (CPW) launches bushmeat sourcebook
Rome, Italy, 3rd March 2015—the Collaborative Partnership on Sustainable Wildlife Management (CPW), of which TRAFFIC is a member, today launched the Bushmeat Sourcebook, an online resource, on the occasion of the second World Wildlife Day. 
---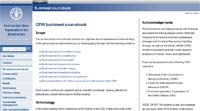 The term "bushmeat" refers to non-domesticated meat from terrestrial wild mammals, birds, reptiles and amphibians harvested for food or other purposes, including medicinal use, primarily in tropical and sub-tropical forests. 
TRAFFIC contributed information to the sourcebook, which examines bushmeat's vital contribution to food security, local livelihoods, and other aspects of human well-being in many parts of the world. It also shows, however, how unsustainable harvesting can affect the ecological stability of forest ecosystems, as well as human health. 
Against this background, the sourcebook also looks at the options for management and regulation of bushmeat use at the community, national and international levels, including the recommendations of the Convention on Biological Diversity (CBD) Liaison Group on Bushmeat. 
"The sourcebook represents a valuable awareness-raising tool, which will help bring attention to key facts," said Braulio Ferreira de Souza Dias , Chair of the CPW and Executive Secretary of the CBD. 
"It also shows us how indigenous peoples and local communities can play a positive role in helping to sustainably manage our valuable wildlife resources." 
More information (PDF, 200 KB)
More on the Collaborative Partnership on Sustainable Wildlife Management
---