APEC commits to reducing demand for illegal wildlife
Beijing, China, 13th November 2014 - Ministers from 21 APEC economies last week pledged to reduce the demand for illegal wildlife products that is today driving the surge in poaching and trafficking of many endangered species across the globe. The Joint Ministerial Statement from the 2014 APEC Ministerial Meeting in Beijing, China, on 8th November included a commitment to "strengthening our efforts to combat wildlife trafficking in the APEC region and reduce the supply of and demand for illegally traded wildlife".
---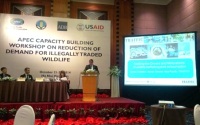 "We welcome actions being taken to build capacity to stop this illicit trade, including through cooperative activities such as the APEC Capacity Building Workshop on Reduction of Demand for Illegally Traded Wildlife held in Hanoi in October 2014," the Statement said.
The APEC Ministers were referring to a workshop that was organised by APEC, Vietnam's CITES Management Authority, the Asian Development Bank and USAID. It focused on allowing APEC economies to share experiences and propose measures toward building an action plan to promote regional cooperation in reducing the demand for illegal wildlife products. The meeting was attended by representatives from nine APEC economies, as well as inter-governmental and non-governmental organisations.
TRAFFIC provided technical support to the workshop, including leading a 'road-mapping' session to provide delegates with a structured framework for designing behaviour change campaigns specific to each APEC economy. The roadmap structure employed was closely aligned with others being used to address demand reduction for illegal wildlife products in CITES and similar processes. This approach was adopted specifically to enable governments to streamline their efforts in meeting the suite of international commitments they have made in relation to supply and demand reduction.
TRAFFIC Senior Programme Director for the Asia-Pacific region, James Compton said that the workshop represented an important step forward in developing two-way dialogue between civil society and government agencies on the most innovative and high-impact ways to change consumer behaviour.
"Events such as this and the necessary follow-up actions will be critical if we are to ensure that high-level commitments made to starve the supply and reduce the demand for illegal wildlife products translate into tangible impact on the ground," he said.
"The APEC Ministers' recognition of the importance of this set of issues through its inclusion in the 2014 APEC Ministerial Statement is a great step forward," Compton added. "We look forward to working with APEC economies an evidence-based and insight-led campaigns to change behaviours of specific consumer demographics – as well as to link programmes of work on illegal wildlife trade with the economic development and security agendas of APEC."
The 2014 APEC Economic Leader's Summit which took place this week reinforced the earlier Ministerial Statement with a Declaration committing the 21 economies to "reducing the supply of and demand for illegally traded wildlife, increasing public awareness and education related to wildlife trafficking and its impacts".
---