Ad campaign aims to reduce Vietnamese demand for rhino horn
Ha Noi, Viet Nam 18th April, 2013—Vietnamese citizens are being encouraged to stop buying or consuming rhino horn through a series of advertisements developed by WWF and TRAFFIC as part of their campaign against Illegal Wildlife Trade. 
---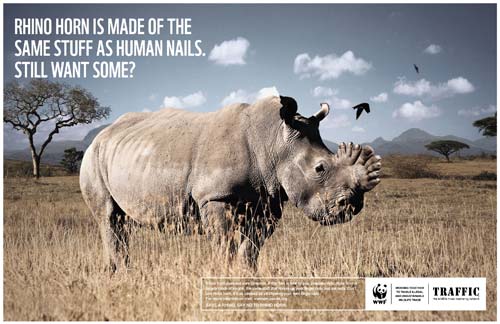 The print adverts were conceptualized by Ogilvy & Mather Viet Nam and depict a rhino with human hands or feet in place of its horn. They provide a novel and intriguing visual to communicate to the Vietnamese public that rhino horn is made largely of keratin, the same substance that makes up your finger nails and toe nails.
"Rhino horn is largely made of keratin and will do nothing to treat cancer or help one's sexual prowess. There are traditional medicines that have proven to be effective for treating a variety of ailments and symptoms and have saved millions of lives. Rhino horn is not one of them," said TRAFFIC's Greater Mekong Programme Coordinator, Dr Naomi Doak. 
"Widespread lies, myths and rumours are fuelling demand and use of rhino horn."
A dramatic spike in demand for rhino horn is believed to be driven by myths related to its curative properties in regards to disease and illness, along with renewed interest in other non-traditional medicinal uses such as a treatment for hangovers, as a sexual stimulant and a detoxifier. 
Although rhino horn remains in the pages of a number of Traditional Vietnamese Medicine texts, its sale is illegal and it has not been included in the publication of the official pharmacopeia in Viet Nam for a number of years. 
 "Currently hundreds of rhinos are being poached each year in South Africa, their horns hacked off and smuggled to meet the soaring demand in Asia including Viet Nam, where rhino horn is considered as 'miracle medicine', despite a lack of supporting medical evidence. It is high time to stop the poaching crisis and save African rhinos from extinction" said WWF-Vietnam Communications Manager, Ms Nguyen Thuy Quynh.
Illegal wildlife trade has become an issue of global concern that is pushing wildlife populations to the brink of extinction. Rhinos killed by poachers in South Africa have surged from 13 in 2007, to 668 in 2012. Already more than 200 rhinos have been killed in South Africa since the beginning of 2013, with other African and now also Asian countries experiencing a surge in rhino poaching.
"We are seeking support and cooperation from many corporates, businesses, celebrities, universities, international organizations and mass media who all have an important voice in reaching and influencing the community" Ms Nguyen Thuy Quynh said.
The adverts will be displayed through many different communication channels, including mass media such as newspapers, television, in public areas as well as social media platforms like Facebook.  In partnership with Mindshare, a global marketing and media network, WWF and TRAFFIC have been able to secure a number of placements including in hundreds of offices and residential buildings, airports, corporate offices and universities throughout Viet Nam.
The public can support and join the campaign by visiting facebook.com/Vietnamwwf and pledging their commitment not to use rhino horn.
In order to help stem the poaching crisis, and to strengthen, elevate and accelerate Viet Nam's efforts to address the country's illegal trade in, and consumption of rhino horn, WWF and TRAFFIC have launched a national campaign against the illegal trade of rhino horn. The campaign is seeking better law enforcement, more effective deterrents against traders and sellers and a reduction in demand for rhino horn in Viet Nam.
More about WWF and TRAFFIC's global campaign against the illegal trade in wildlife..
---