1.4 tonnes of ivory seized in Thailand
Bangkok, Thailand, 22nd April 2010—Customs officers at Bangkok's Suvarnabhumi Airport seized almost 1.4 tonnes of elephant ivory tusks on 17 April, officials in Thailand announced yesterday. Acting on a tip-off, Customs officers discovered 296 African Elephant tusks weighing a combined total of 1,390 kg inside three crates on board a flight from Qatar. The cargo was labeled as "printing metal" and addressed to a Thai company based in Bangkok. 
---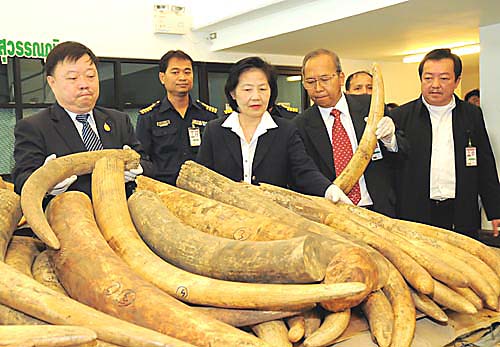 This is the latest in a series of large scale ivory seizures involving Thailand and ivory illegally transported from Africa via the Middle East: in February, Customs officials at Suvarnabhumi seized 239 African Elephant tusks weighing an estimated two tonnes, reported to be the country's biggest ever ivory seizure. The ivory was said to have arrived on an Emirates flight from Dubai where it arrived from Nairobi, and was apparently destined for Lao PDR. Earlier, in August 2009, officials at the airport were reported to have seized 316 pieces of ivory weighing 2 tonnes in a shipment from Uganda and Kenya.
"The discovery of yet another large scale illicit shipment of ivory is both a testament to the dedication and vigilance of Thailand's enforcement officers and an indictment of Thailand's role as a hub in the illegal ivory trade," said Dr William Schaedla, Director of TRAFFIC Southeast Asia.
The latest Elephant Trade Information System (ETIS) report, compiled by TRAFFIC on behalf of parties to the Convention on International Trade in Endangered Species of Wild Fauna and Flora (CITES) and released in November 2009, identified Thailand as one of the top three countries—along with Nigeria and the Democratic Republic of Congo—most highly implicated in the illicit ivory trade, and was the country of most concern in Asia.
The authorities in Thailand have recently been taking action to bring the illicit ivory trade under control. In August last year, the Government introduced legislation requiring ivory traders to maintain an updated inventory of their stock and to have this available for review by authorities as required. 
The Government is also reviewing the Wildlife Animal Reservation and Protection Act (WARPA 1992). The Act legalizes ivory obtained from domesticated elephants, thereby creating a loophole for the laundering of illicit ivory into trade. The flaw in the legislation was highlighted in TRAFFIC's recent report, The elephant and ivory trade in Thailand, which also detailed the results of market surveys for ivory carried out in 2006 and 2007. The Government  is also in the process of drafting the "Elephant Act", a new piece of legislation designed to dovetail with the revised WARPA and close all existing loopholes once and for all.
"The government of Thailand is clearly demonstrating its commitment to addressing the illegal trade in ivory, but with loopholes still existing in the domestic legislation and Thailand still a destination for large-scale illicit shipments, there is still some way to go before satisfactory measures are in place," said Schaedla.
Just last month, H.E. Mr Suwit Khunkitti, Thailand's Minster of Natural Resources and Environment, launched a "Buy Ivory, buy trouble" campaign targeting passengers through Suvarnabhumi Airport and asking that tourists in particular did not help fuel the illicit ivory trade through purchasing and transporting ivory items across international borders.
---