i
poached for their skins, bones, teeth, claws, and skins
Leopards, including Snow Leopards, Clouded Leopards, Amur Leopards, and Spotted Leopards, are all under threat from poaching and illegal trade.
Of these, the Snow Leopard Panthera uncia is one of the most vulnerable to extinction, with approximately only 4,000 left in the wild and a range that has been significantly eroded by human encroachment and climate change. Leopard skins and body parts continue to enter the illegal wildlife trade in Asia, where they are still prized as symbols of wealth and status as well as for use in various traditional remedies.
221–450
Snow Leopards are killed each year
90% of poaching
of Snow Leopards occurs in China, Mongolia, Pakistan, India and Tajikistan
approximately 4,000
Snow Leopards are thought to remain in the wild
only 70
Critically Endangered Amur Leopards are thought to remain in the wild
2,294
leopards were estimated to have been trafficked in India between 2001–2010
poaching and human/wildlife conflicts
A significant number of leopards, and Snow Leopards in particular, are killed in retaliatory human/wildlife conflicts by rural communities as a means of protecting their livestock.
Retaliatory killings are a leading cause of Snow Leopard mortality, with derivatives such as skins and bones opportunistically entering illegal trade chains as a result. As such, interventions at the source are imperative, such as ensuring that rural and isolated communities are given national subsidies in response to lost livestock and strengthening local enforcement across Range States.
the four reasons behind Snow Leopard killings
TRAFFIC research in 2016 analysed the percentage frequencies behind illegal Snow Leopard mortality.
The report An Ounce of Prevention analysed seizure records and used a combination of market surveys and expert interviews to ascertain the trends and patterns behind Snow Leopard deaths, revealing the majority are retaliations for attacks on livestock. Find out more in the full report.
contributing to international commitments to protect leopards
Global Snow Leopard Ecosystem Protection programme
The Global Snow Leopard Ecosystem Protection programme (GSLEP) is an international initiative that seeks to address high-mountain development issues facing Snow Leopard conservation.
The programme unties the 12 Range States of Afghanistan, Bhutan, China, India, Kazakhstan, Kyrgyzstan, Mongolia, Nepal,Pakistan, Russia, Tajikistan, and Uzbekistan in finding national and international solutions to the threats facing this charismatic animal. TRAFFIC supplies research, analysis and recommendations to the programme to help guide decisions and bring about lasting change.
South Asia Wildlife Enforcement Network
The South Asia Wildlife Enforcement Network (SAWEN) provides member countries Afghanistan, Bangladesh, Bhutan, India, the Maldives, Nepal, Pakistan, and Sri Lanka with a platform to commit to transboundary solutions in the fight against wildlife crime.
We have supported SAWEN in its work across wildlife species, particularly tigers and leopards. The core values focus on the harmonisation of policies, capacity and collaboration, and information sharing to enhance wildlife law enforcement in the region. 
related news and reports to leopards
explore our latest analysis and investigations into leopard poaching and illegal trade
related reports to LEOPARDS
Explore the latest publications, reports and papers from TRAFFIC related to leopard conservation and the illegal trade in leopard products.
Visit our resource library for the full TRAFFIC publication archive.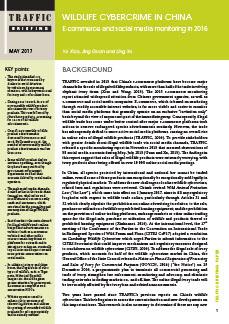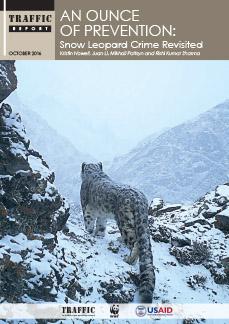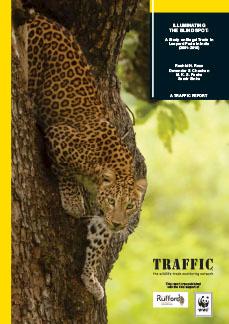 Behavioural change
Changing attitudes, knowledge and consumer behaviour is a crucial element in the fight to save endangered wildlife. We're currently implementing Social and Behavioural Change Communications initiatives in Asian countries/territories to address consumer consumption.

Wildlife Crime
Various projects combating wildlife crime in source and destination countries are working to protect leopards from poaching and illegal trade, both physical and online. Find out more about how we're working to keep leopard numbers up.