---
Notes:
The latest report is published as part of an ongoing ITC series entitled Sustainability Market Guides produced by the ITC Trade and Environment Programme. It was launched to coincide with Biofach 2016, in Nuremberg, Germany, the world's leading trade fair for organic food products.

This communication has been produced with the financial assistance of the European Union. The contents of this communication are the sole responsibility of TRAFFIC and can under no circumstances be regarded as reflecting the position of the European Union.
---
About FairWild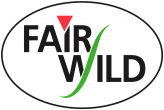 The increasing demand for wild plants—as ingredients for food, cosmetics, well-being and medicinal products—poses major ecological and social challenges. The pressure on potentially vulnerable plant species can endanger local ecosystems and the livelihoods of collectors, who often belong to the poorest social groups in the countries of origin.
As a response to these concerns, the FairWild Foundation is working with partners worldwide to improve the conservation, management and sustainable use of wild plants in trade, as well as the livelihoods of rural harvesters involved in wild collection. TRAFFIC has supported the development of the FairWild Standard, and now hosts the organization's Secretariat under a partnership agreement.