Year of the Tiger ends with roadmap to save species
Kuala Lumpur, Malaysia, 1st February 2011—The Year of the Tiger in the Chinese lunar calendar draws to a close tomorrow, 2nd February, having yielded big results for its namesake—an unprecedented swell of public and government support to save Tigers in the wild, including an historic global recovery programme.
---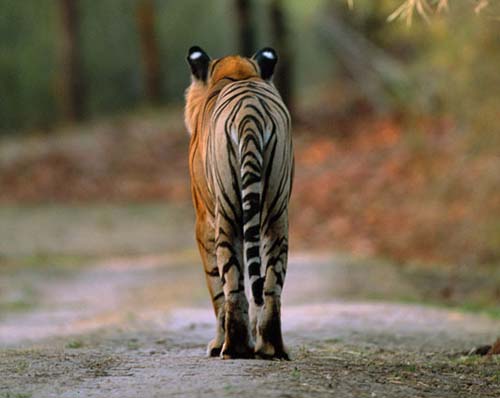 The International Tiger Forum, held in St. Petersburg, Russia, in November 2010 marked the first time an international summit has been convened to focus on a single, non-human species. 
A significant output from the Forum was the Global Tiger Recovery Programme (GTRP), a collaboration between the 13 countries that still have wild Tigers and who have set a goal of doubling wild Tigers by the next Year of the Tiger in 2022.
"The recovery programme is a big boost for Tigers," said Mike Baltzer, Head of WWF's Tigers Alive Initiative.
"But it is only the beginning. We must now join the Tiger Range Countries and our partners worldwide to ensure the momentum from the Forum and this past year's Tiger conservation achievements continues. Tigers have already run out of time. The recovery must not lose steam."
Wild Tiger numbers are down to only 3,200, with scattered populations across 13 countries having lost more than 93 percent of their historic range. Just 100 years ago, an estimated 100,000 Tigers roamed across Asia.
As the recovery programme takes shape, progress has already been made to save Tigers in the wild. This includes: 
•    Korean Pine, a critical tree in the Russian Far East was awarded official protective status, ending its logging in Amur Tiger habitat;
•    A new wildlife conservation bill was passed in Malaysia, providing significantly higher penalties and mandatory jail time for wildlife crime, with poaching of Tigers and trading in their parts now receiving maximum punishment;
•    India announced it's 39th Tiger reserve (Sahyadri), with another eight new reserves in development;
•    Indonesia's Ministry of Forest placed a moratorium on conversion of virgin forest and peat swamp forest on the island of Sumatra for the next two years, thus protecting prime Sumatran Tiger habitat;
•    Cambodia formally designated Selma Forest a protected area, creating a new and vital protected area as part of the Eastern Plains Tiger Landscape Protected Area Complex;
•    The South Asia Wildlife Enforcement Network (SAWEN) was established, strengthening anti-poaching and wildlife trade law enforcement efforts in the Tiger countries of Bangladesh, Bhutan, India and Nepal.
"Although there were some encouraging developments and pledges made during the Year of the Tiger, these need to be followed up by committed conservation action," said Pauline Verheij, joint TRAFFIC and WWF Tiger Trade Programme Manager. 
"Weekly headlines show the pressure on Tigers from illegal killing for trade and loss of habitat and prey is undiminished, increasingly bringing Tigers into conflict with humans. The world cannot sit back and be complacent: it's now do or die for the wild Tiger."
---