World Fair Trade Day
Cambridge, UK, 14th May 2011—today, small producers, artisans, farmers and small-hold manufacturers, Fair Trade producers, traders and consumers worldwide will be celebrating World Fair Trade Day.  
---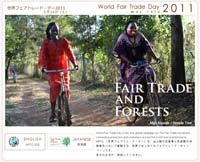 The day is being co-ordinated by the World Fair Trade Organization (WFTO), which represents more than 450 Fair Trade Organizations from 73 countries in Africa, Asia, Latin America, Europe, North America and Pacific and aims to focus attention on the need for a fair and sustainable economy locally and globally, and for trade to deliver sustainable livelihoods and development opportunities to small producers. 
The Fairwild Foundation will be joining in the celebrations. The FairWild Standard and associated certification system provide an opportunity to apply fair trade principles to sustainable use and trade in wild-harvested plant resources. 
Fair trade principles are embedded within the FairWild Standard alongside a range of ecological and social criteria, and the FairWild Foundation aims to harmonise these requirements with other Standards where possible. 
The FairWild Foundation works with government authorities, collectors, non-government organisations, and the private sector on implementation of the FairWild Standard, including through promoting certification of wild-plant collection operations. 
TRAFFIC is a partner in the FairWild Foundation and is helping promote the FairWild Standard through its Medicinal and Aromatic Plants programme. 
FairWild Certification means that buyers know they are supporting fair trading—the products are legally and sustainably sourced, and the benefits are felt by all those involved right down to the local communities harvesting the wild plants. 
---