Wildlife conservation campaign launched in China
Beijing, China, 20 November 2007—An advertising campaign aimed at changing consumer attitudes about unsustainable wildlife trade was today launched in Beijing. The campaign, consisting of creative print, video and online advertisements, is part of an awareness-raising project between WWF, the conservation organization, TRAFFIC, the wildlife trade monitoring network, and Ogilvy, an advertising agency.
---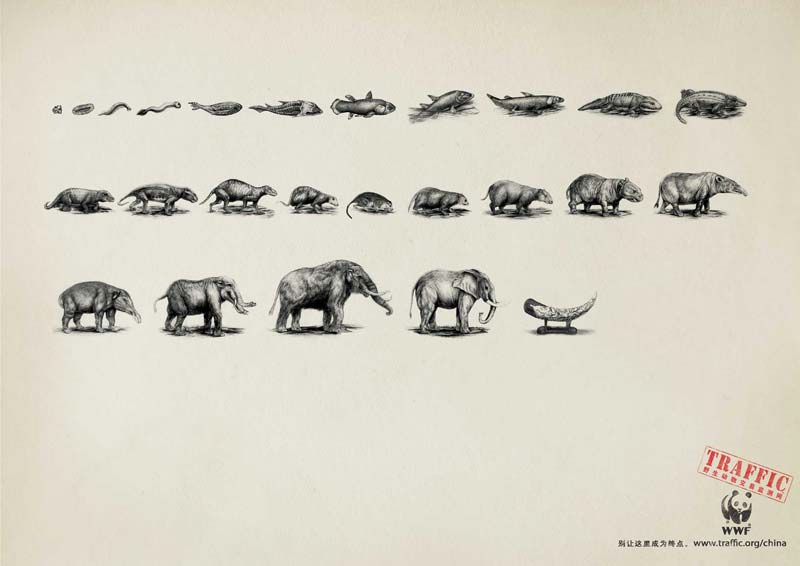 Each year, hundreds of millions of plants and animals are caught or harvested from the wild in China and then sold as food, pets, ornamental plants, leather, tourist curios and medicine. Although much of this trade is legal and does not harm wild populations, a worryingly proportion is illegal—and threatens the survival of many animal and plant species that are being pushed dangerously close to extinction.
The campaign aims to encourage sustainability in wildlife trade—by informing urban consumers about the environmental harm that illegal and unsustainable wildlife trade causes, and by providing guidance on how to counteract it. 
Graphic images will depict the long evolutionary history of a particular species, ending abruptly at the wildlife products that threaten its survival. For example, the evolution of Tigers stops at a bottle of Tiger bone wine, the evolution of Asian freshwater turtles ends at a bowl of soup, whilst elephant evolution finishes at an ivory carving.
Once the 'hook' has caught consumers' attention, they will be directed to web-based information at www.trafficchina.org where they can find out what actions they can take to help protect species, such as how to avoid buying illegal ivory and how to identify authorized sellers.
"One of the most powerful tools for addressing illegal and unsustainable wildlife trade is to persuade consumers to make informed choices when buying wildlife-based products," said Xu Hongfa, head of TRAFFIC's China programme. 
"I believe this campaign will get consumers thinking about their consumption habits, and I urge them to join us in working to conserve our irreplaceable natural heritage," he added. 
 
Shenan Chuang, CEO, Ogilvy & Mather Group, China, who created the campaign, took pride in joining the project: "The consumption of threatened species is an appalling trend. I am proud to be able to help raise awareness amongst consumers that this is both illegal and destructive to Earth's natural resources. 
"Through this campaign, we hope to help change the attitude of urban consumers." 
The campaign will take place in the months leading up to Chinese new year, a time when wildlife products are often consumed as luxury food or given as gifts.
---
Notes:
* The advertising campaign can be viewed as follows:
Video: the Beijing subway is currently running the campaign video on an electronic subway tunnel billboard at Jianguomen station through December 20. The ads will also be appearing on TV stations around the country

For more information about print, web, email and mms versions of the ads, please visit www.traffic-china.org

TRAFFIC is currently seeking video, print and web spaces for pro-bono placement of the ads. For more information, contact: Enable JavaScript to view protected content.

* TRAFFIC, the wildlife trade monitoring network, works to ensure that trade in wild plants and animals is not a threat to the conservation of nature. TRAFFIC is a joint programme of WWF and IUCN - The World Conservation Union.
---