Vigilance urged as Malaysia destroys huge ivory stockpile
Kuala Lumpur, Malaysia, 14 April 2016 – TRAFFIC today called for continued vigilance and intelligence-led enforcement and investigations against the illegal ivory trade as Malaysia destroyed 9.55 tonnes of seized elephant tusks.
---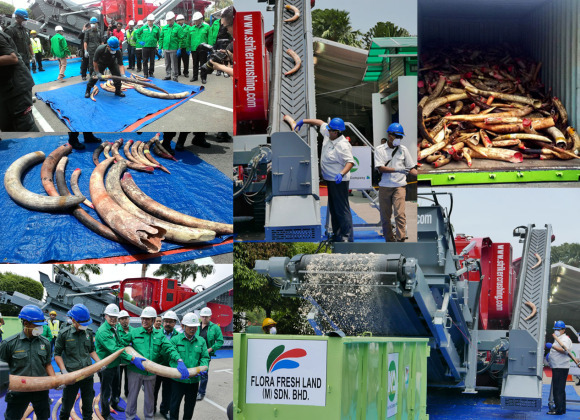 The tusks that were crushed and then incinerated were from enforcement actions between 2011 and 2015 and represent an estimated 60% of Malaysia's seized ivory stockpile.
''This event forms part of the country's effort towards fighting wildlife crime and we welcome the sentiment," said Kanitha Krishnasamy, Senior Programme Manager for TRAFFIC in Southeast Asia. "More importantly, we look forward to these good intentions being bolstered with concrete actions to tackle the factors that have made Malaysia a key transit point in the global ivory trade.''
In 2013, Malaysia was among eight countries subjected to a CITES oversight process for its role in the global illicit ivory trade. It has since submitted a national ivory action plan and has continued to make ivory seizures and related arrests.
Just two months ago, Customs made two ivory seizures weighing a total of 158 kg at the Kuala Lumpur International Airport, arresting two Vietnamese nationals. In the previous year, a Chinese national was arrested smuggling 16 ivory pieces, and later convicted with a penalty of MYR250 000 (USD65 700) and imprisonment of two months.
However, Malaysia is still frequently used by ivory traffickers as a transit point with at least three shipments that implicated Malaysia seized outside the country. In August last year, Vietnamese authorities seized over 1600 kg of ivory from two shipments that transited Malaysia.  The last five ivory seizures at airports in Malaysia were also in transit to various destinations in the region.
''Authorities have shown vigilance, in line with promises in Malaysia's National Ivory Action Plan. This has resulted in seizures, arrests and prosecution of traffickers, and we urge them not to let their guard down following this symbolic move,'' said Krishnasamy.
TRAFFIC urges increased monitoring at ports and airports and more thorough intelligence-led investigations into networks operating in these gateways. It also calls on Malaysia to focus on fully implementing its ivory action plan and for the careful management of any remaining stockpiles
Independent audits are recommended as a 'best practice' prerequisite before any ivory stockpile destruction needs to be carried out, to ensure there is utmost transparency in the process.
The portion of the stockpile destroyed today was audited by a government committee which drew its eight members from the Ministry of Natural Resources and Environment, the National Audit Department, Anti-Corruption Commission, Royal Malaysian Customs and the Department of Wildlife and National Parks.
In his speech, Malaysia's Environment Minister Wan Junaidi Tuanku Jaafar acknowledged that the ivory destruction would not stop the killing of African Elephants and trading of ivory, but said it would ensure that no-one profited from the contraband.
TRAFFIC warns that the impact of ivory destruction events on end-use markets and ivory prices needs to be carefully monitored in order to determine how effective they are in achieving their stated aims. 
"If prices increase, and hence the profitability of the illicit trade, then speculators may become emboldened and stimulate further elephant poaching to acquire more ivory", cautioned Tom Milliken, TRAFFIC's Elephant and Rhino Programme Leader.  "These destruction events do not necessarily offer a 'silver bullet' solution". 
In addition to the audit, the Minister also announced that Malaysia had conducted DNA forensics tests on seized tusks and found that they originated from elephants in 11 African nations.
---