Vietnamese wildlife enforcement officials observe Thailand's anti-wildlife crime measures
Bangkok, Thailand, 24th July 2009—Officials from Viet Nam's Environmental Police, Customs and Forest Protection Department visited Thailand from 13-17 July, to observe the country's anti-wildlife crime measures, in particular the mechanisms which support effective interagency co-operation. 
---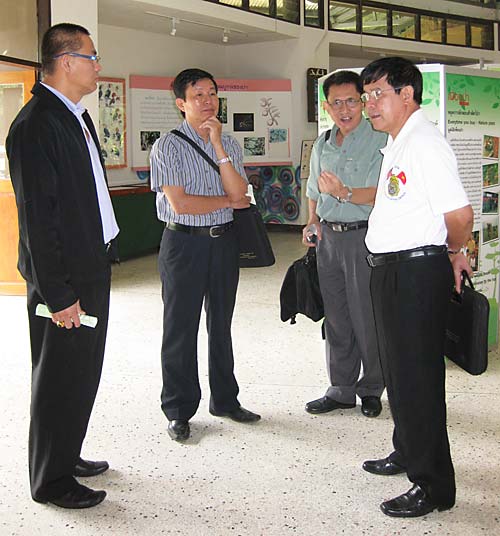 "The study tour provided an important opportunity for Viet Nam and Thailand to strengthen their relationships through increased co-operation and co-ordination to combat wildlife crime," said Mr Do Nhu Khoa, Head of Task Force, Forest Protection Department of Vietnam, who headed the Vietnamese delegation. 
"We were provided with useful information which will help us strengthen Vietnam's Forest Crime Task Force and make it more effective," he added. 
The study tour included visits to Customs facilities at Suvarnabhumi International Airport, CITES checkpoints, and the World Heritage-listed Khao Yai National Park followed by a meeting with the Deputy Director General of the Department of National Park, Wildlife and Plant Conservation and the Commander of the Thai Police's Natural Resources and Environment Crime Division. 
Mr Kasemsun Chinnavaso, Director General of the Department of National Park, Wildlife and Plant Conservation stated "DNP is pleased to support and welcome the study visit of representative from Viet Nam Forest Protection Department, Environmental Police and Customs as we always encourage and need a close collaboration and networking." Mr Kasemsun Chinnavaso leads the team that works under the auspices of all ASEAN Member Countries to co-ordinate, investigate and co-operate in the areas of wildlife and environmental crime.
Thailand was chosen for the visit due to the high profile and success of the Thai Wildlife Enforcement Network (Thai-WEN) in combating illegal wildlife trade. 
The Thai-WEN was established following an agreement among ASEAN countries to form an inter-governmental forum known as the ASEAN Wildlife Enforcement Network (ASEAN-WEN), which is coordinated by a Program Coordination Unit (PCU), currently based at the Department of National Parks and Plant Conservation in Bangkok, Thailand.
The PCU used the opportunity to remind the Vietnamese delegates of the support available through the ASEAN-WEN Support Program, including training and investigative assistance, especially to national level task forces. 
"I am looking forward to opportunities of this nature which allow countries to work more closely together in fighting transnational wildlife crime," said Dr Chumphon Sukkaseam, Senior Officer of the ASEAN-WEN PCU. 
The study tour, organized by Viet Nam's Forest Protection Department in collaboration with TRAFFIC's Greater Mekong Programme office in Ha Noi, was hosted by delegates from the Thai Department of National Park, Wildlife and Plant Conservation (DNP), under the Forest Law and Environmental Governance (FLEG) initiative funded by the World Bank. 
The FLEG initiative is part of the World Bank's Forest Strategy that acknowledges illegal logging and lack of appropriate forest governance as a major obstacle to the efforts of countries to alleviate poverty, to develop their natural resources and to protect global and local environmental services and values.
---