Vietnamese Communist Party officers encouraged to spread the word
Lai Chau, Viet Nam, 24th September—Nearly 350 communication officers of the Communist Party of Viet Nam attended an event last week in northern Viet Nam where the negative impacts of illegal wildlife trade were among the hot issues presented. 
---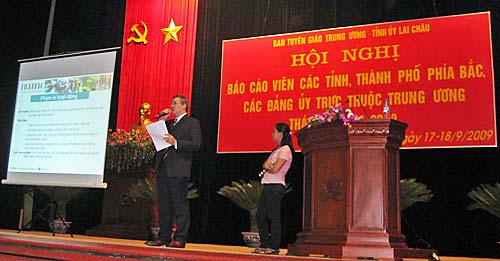 The monthly meeting of communications personnel, organized by the Communist Party's Central Committee on Communications and Education (CCCE), aimed to circulate news and policies throughout northern Viet Nam.
The event, sponsored in part by TRAFFIC and the CCCE, provided communication personnel with information and materials on wildlife trade so they can disseminate the information to their respective districts, ministries and organizations.
Presentations were given by members of TRAFFIC and the Viet Nam Institute of Ecology and Biological Resources to highlight the need to reduce wildlife consumption and end the illegal wildlife trade, and to promote sustainable use and conservation of Viet Nam's natural resources.
Unsustainable wildlife consumption and a lucrative illicit trade are threatening the country's unique biodiversity. Numerous species including the Tiger, Asian Elephant and the Saola risk regional extinction, as heightened demand for wildlife meat and products continues to fuel high levels of trade and consumption.
"Only by raising public awareness and concern for conservation will Viet Nam's threatened wildlife be saved" commented Tom Osborn, Acting Head of TRAFFIC's programme in the Greater Mekong region. 
Lai Chau province is located in the north-west corner of the country near the border with China and the Lao People's Democratic Republic. Viet Nam functions as both a producer and consumer of wildlife products and endangered plants and animals are illegally smuggled across these borders.
Using government-sponsored communication outlets to raise awareness is one strategy TRAFFIC has pursued as part of a wildlife trade campaign co-run with WWF and funded by the Royal Danish Embassy. The campaign's goal is to change consumptive attitudes and behaviour in Viet Nam, and thereby contribute to the conservation of the country's wildlife.
---