TRAFFIC project to equip stakeholders with new tools to ensure sustainable timber trade
Hanoi, Viet Nam, 11th March 2019—the second phase of a TRAFFIC project working to reduce illegal timber exports kicked off last month, with a suite of activities planned in Cameroon, the Republic of Congo, Viet Nam, and China.
---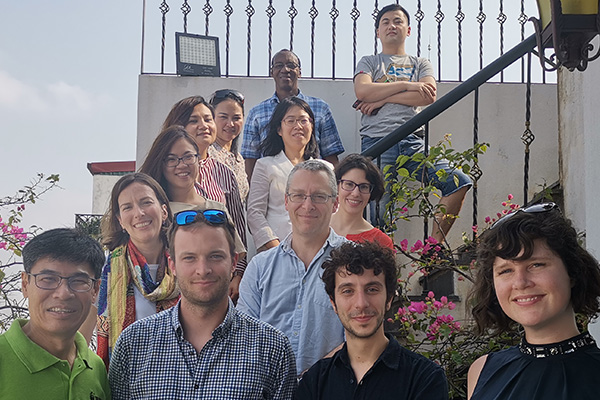 The project seeks to address the ongoing impact of an explosion in consumer demand for tropical timber in East Asia, particularly from Chinese and other international markets.
In 2016, China imported 48.72 million cubic metres of round wood and 31.51 million cubic metres of sawn wood, an increase of over 15% and 30% respectively, compared to similar imports in 2011. Recent signs show this trend is set to continue.
Vietnam increasingly imports tropical timber from the Congo Basin, mainly from Cameroon. UN COMTRADE data1 indicate that the value of Vietnamese imports of timber products from Cameroon increased 24% from US$143 million in 2015 to US$177 million in 2016, making Viet Nam Cameroon's second largest export market after China. In 2018, 23% of the total volume of tropical timber imported by Viet Nam originated from Cameroon.
With increasing numbers of Chinese operators involved in the harvesting, processing, and distribution of wood sourced from the Congo Basin, this project is focused on reinforcing Chinese and EU governments and industry commitments to ensure timber procurement is legal and sustainable.
There are indications that sensitivity to environmental concerns for timber products including sustainable consumption and product traceability, are gaining traction among Chinese consumers, reinforcing opportunities for increased focus on green labelling and timber certification standards.
China has strategic policy tools in place to reduce illegal timber and guide sustainable timber procurement, a lack of understanding of relevant source, national, and international legislation is a significant barrier to a wider industry transition towards sustainable timber sourcing and trade.
To combat this, TRAFFIC is scaling up the development of a comprehensive, concise, and user-friendly suite of (re)packaged "legality manuals" and associated tools to guide timber companies in the implementation of legal and sustainable practices. These include country-specific manuals linking to existing Voluntary Partnership Agreements (VPAs) legality definition developed through a source country multi-stakeholder consultation process, as well as the delivery of associated training events for industry and civil society organisations in Cameroon, the Republic of Congo, and China.
In addition to supporting industry compliance with existing laws and sustainability commitments, the project is also providing input to Cameroon, Republic of Congo, Vietnamese, and Chinese customs agencies to help develop training modules for new and existing officers to increase their confidence in detecting illegal timber trade through their borders, while facilitating efficient trade of legal timber products.
TRAFFIC has previously developed Timber trade guidelines for customs, providing an overview to issues such as timber identification, illegal logging crime scenarios, risk profiling and modus operandi for customs officers.
Customs training is an ongoing priority for this project, with a partnership with China Customs Administration and the Shanghai Customs training college helping TRAFFIC develop, localise, and deliver a set of timber trade training tools and frontline materials for customs officers working in Africa and Asia.
Rainforests in the Congo Basin in general and in Republic of Congo and Cameroon in particular continue to endure the effects of over-exploitation and illegal logging, with local communities often the ones most affected by illegal or unsustainable activity
Chen Hin Keong, TRAFFIC's Senior Advisor on Forest Governance and Trade
"Simultaneously supporting government commitments to strengthen sustainability policies, and developing the tools to support timber companies operate legally, is helping to ensure Congo Basin rainforests are managed in a way that protects people and biodiversity for future generations."
This project is generously funded by the UK Department for International Development.
---
Notes:
Find out more about the project Reinforcing Chinese Government and industry action to reduce illegal timber exports from Cameroon, Viet Nam and other transit countries.
1 http://www.flegtimm.eu/index.php/newsletter/flegt-market-news/73-vietnam-s-rising-significance-as-a-wood-processing-hub.
---
About FCDO

Foreign, Commonwealth & Development Office. Find out more about them here.