Vietnamese authorities teamed up with TRAFFIC to tackle destructive illegal trade of African timber species
To safeguard the sustainability of supply in African tropical timber species, TRAFFIC and Viet Nam Administration of Forestry (VNFOREST) provided Customs and Forest Protection officials with the most up-to-date information and identification skills through a series of training sessions and a comprehensive guidance manual.  
---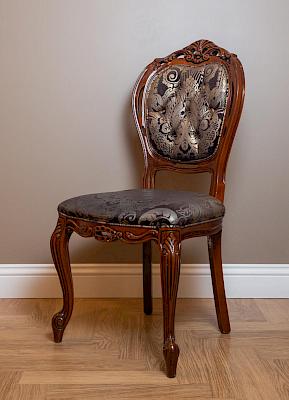 Viet Nam's forest product export value ranks first in the Association of Southeast Asian Nations (ASEAN)1, second in Asia and fifth in the world. Viet Nam currently has about 4,500 wood processing enterprises – 1,500 of which are export-oriented – creating nearly 500,000 jobs and contributing to the country's socio-economic development and security.  
In September 2020, the Viet Nam Government issued a Decree (No.102/2020/ND-CP) for the Vietnam Timber Legality Assurance System (VNTLAS) – developed to ensure timber entering and leaving the country complied with international regulations while contributing to socio-economic security. The Decree outlined Viet Nam's legal timber for import-export in addition to criteria and procedures for classifying timber processing and international regulations such as the European EU Forest Law Enforcement, Governance and Trade (FLEGT).  
Effective implementation of the VNTLAS Decree will require Vietnamese authorities, especially Vietnamese Customs and Forestry Protection Department (FPD) officers, to take primary responsibility for monitoring and ensuring the legality of imported timber, especially timber originating from higher-risk countries or sources. To be able to do this, Vietnamese authorities need to be well aware of the requirements of Vietnamese regulations but also understand or be able to interpret timber sector regulations from multiple countries. This represents numerous challenges, and it is in this context that FAO partnered with TRAFFIC to implement this project." 
Mr Bruno Cammaert -  Regional Coordinator FAO-EU FLEGT Programme  
The project, which held its final meeting on 22nd Oct 2021, enhanced Vietnamese officials knowledge in how to monitor and inspect imported timber under the Decree regulations – especially imported wood from Africa. TRAFFIC provided training to over 200 participants from 26 provinces on the world's timber trade, Viet Nam's export wood processing industries and international regulations related to legal timber.  
A customs officer who took part in multiple sessions of the training course said: "The course is very useful for my professional work because I am a customs officer myself, who directly receives custom documents, checked documents and am responsible for customs clearance of timber shipments imported from Laos into Viet Nam. After the training, I understood the new regulations on processes, procedures and timber import documents under Decree 102 and of the VPA/FLEGT Agreement on risk species, geographical risk and especially how to identify imported timber by name." 
To complement the training, a detailed guidance manual bespoke to Vietnamese wood supply chains was developed by a committee of representatives from TRAFFIC, VNForest, Customs, and Deutsche Gesellschaft für Internationale Zusammenarbeit (GIZ). It outlined procedures and techniques, such as how to take wood samples in order to identify, monitor, and verify the legality of the most commonly imported timber. It also provided illegal-logging crime scenarios that allow participants to understand wood identification.  
Capacity building for Customs and Forest protection officers remains a high priority, and both organisations agree to work further, facilitate more human resources and funding to meet this demand. Speaking at the closing workshop, Mr Nguyen Van Dien - Chief of Forest Product and Development Department (VNFOREST), said, "The project is one of the activities to prepare necessary conditions for successful implementation of the VPA/ FLEGT in reality. At the same time, it is expected that in the coming time, training activities and awareness-raising activities will continue to be organised, and VNFOREST is willing to support." 
"Ensuring that timber supplies abide by national and international regulations is vital to safeguard future sustainable trade of these species. It is possible to maintain the national and international trade and people's livelihoods as long as these timber species are not over-exploited," says Trinh Nguyen, TRAFFIC Viet Nam Office Director. 
---
Notes:
The EU is one of Viet Nam's main export markets. To show its commitment to this market, in 2019, Viet Nam agreed to the EU Action Plan to implement Forest Law Enforcement, Governance and Trade (FLEGT) and the Voluntary Partnership Agreement (VPA) applied to countries with illegal logging poor forest management.  
With this agreement came the EU Timber Regulation, which requires importers of timber and timber products entering the EU to prove the legal origin of timber to the EU authorities before entering the first port of the EU. There are only two exemptions: CITES-permitted timber and FLEGT-licensed timber. Allowing illegal wood to make its way into the supply chain at Viet Nam reaching the EU could have significant ramifications for trust and income.  
The main commitments in both the VPA/FLEGT Agreement and VNTLAS include legal procedures and documents for imported timber; identification of high-risk imported timber species and how to distinguish imported timber species; risks associated with the geographical origin; coordination between the FPD and Customs in the management and control of legally imported timber. 
The project, titled 'Capacity building for Vietnamese Customs and Forest Protection officers in monitoring and enforcing trade controls for timber imports into Vietnam, especially from Africa', was funded by the Food and Agriculture Organization of the United Nations (FAO) under the FAO EU FLEGT Programme and TRAFFIC.  
1. Southeast Asian Nations: Brunei Darussalam, Myanmar/Burma, Cambodia, Indonesia, Laos, Malaysia, Philippines, Singapore, Thailand, Vietnam.
---
About Food and Agriculture Organisation of the United Nations (FAO)

The Food and Agriculture Organization (FAO) is a specialised agency of the United Nations, supporting the transformation to more efficient, inclusive, resilient and sustainable agri-food systems. The conservation and sustainable use of wild plants and non-wood forest products is a key area of work in the FAO Forestry Division, with the aim of contributing to the sustainable management of the world's forests, the conservation of biological diversity, and ultimately improving livelihoods, food security and nutrition. 
About GIZ
GIZ on behalf of the German Federal Ministry for Economic Cooperation and Development (BMZ) and the German Federal Ministry for the Environment, Nature Conservation and Nuclear Safety (BMUZ) supports international cooperation for sustainable development and international education work to shaping a future worth living around the world. www.giz.de