Fish in bags among wildlife menagerie seized at Bangkok airport
Bangkok, 13th April 2012—Ever since their stunning discovery of a tiger cub hidden in a smuggler's bag in 2010, wildlife authorities at Thailand's Suvarnabhumi International Airport have been on the lookout for others attempting such crazy schemes. 
---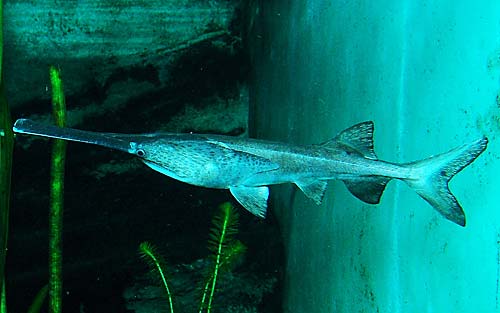 Now, it seems that vigilance has paid off.
Critically endangered tortoises, water dragons and even American Paddlefish that can grow up to two-meters long, were among the surprising list of wildlife that unsuccessful smugglers have tried to slip past security at Suvarnabhumi International Airport so far this year.
A man from Taiwan with Boa Constrictors, Emerald Tree Boas, Indochinese Water Dragons and several more lizards and chameleons was arrested in early February as he attempted to smuggle the 39 animals in his bags from Thailand to China.
A few days later, an Indonesian traveler was arrested with Radiated Tortoises, Indian Star Tortoises and a host of other tortoises in his luggage. 
In the most recent case on March 17th, yet another Indonesian man was caught with over 155 fish in his bags, including a dozen American Paddlefish.
These cases follow eight others foiled by the Department of National Parks, Wildlife and Plant Conservation officers at the same airport in 2011. Over 1,000 animals have been found in the 11 cases with reptiles topping the list of smuggled animals.  
In three of the eleven cases so far, the suspects were travelling to Indonesia. 
However, the highest number of animals found in one case – over 450 individuals – was in the luggage of a passenger bound for Bangladesh. The animals, mostly tortoises and turtles, had been stuffed into four bags that had been abandoned by the smuggler at the airport in June 2011. 
Details of the 2012 and 2011 cases are listed below. However, they do not include seizures made by other enforcement units such as the Natural Resources and Environmental Crimes Suppression Division of the Thai Police, who found seven infant animals in hand luggage belonging to a man from the United Arab Emirates.
All the cases are currently under investigation. 
 "The list of seizures reads like roll call for an illegal Noah's Ark," noted TRAFFIC Southeast Asia's Regional Director Dr William Schaedla.  
"Thailand's wildlife authorities deserve high praise for preventing this wildlife trafficking, and for their ability to deal with such a dizzying array of animals. We hope prosecution of offenders will follow," he said.
---
Notes:

LIST OF CASES
•    17th March 2012: A 35-year old Indonesian man bound for Jakarta, Indonesia, was arrested with Ball Pythons (4), Chinese soft-shell turtles (25), Cichlids (12), Fighting fish (50), Carp (Family Cyprinidae) (52) and American Paddlefish (12)

•    13th February 2012: A 30-year old Indonesian man flying to Jakarta was arrested with Indian Star tortoises (8), Radiated tortoises (3), Sulcata tortoises (7), Leopard tortoises (5), Aldabra tortoise (1) , Black Pond Turtle (5) and Red-eared Slider (1)

•    11th February 2012: A 48-year-old man from Taiwan headed to Guangzhou, China, was arrested with Peach Throat Monitor (1), Yellow Monitor (3), Ceram Mangrove Monitor (1), Argus Monitor (4), Emerald Tree Boa snakes (4), Boa Constrictors (5), Chameleon (5) and Indochinese Water Dragon (16). 

•    15th July 2011: A 23-year-old Iranian man bound for Tehran was arrested with Ruthven's Kingsnake (1), Pueblan Milksnake (1), Corn Snakes (6), Ball Pythons (6), Burmese Pythons (2), Reticulated Pythons (5), Yellow Anaconda (1) and White Lipped Python (1).

•    11th July 2011: A Chinese national flying from Thailand to Hong Kong was arrested with Bearded Dragon (1), Indian Star tortoise (6) and American Bullfrog (10).

•    3rd July 2011: A 44-year-old Japanese man travelling to Sapporo, Japan, was arrested with four green iguanas.

•    26th June 2011: A 26-year old Sri Lankan national was arrested at the Suvarnabhumi airport with 15 Grey Parrots

•    1st June 2011: A bag abandoned by a passenger on a Bangladesh-Thailand flight was found with Indian Star Tortoises (35), Indian Ghavial (7), Narrow Headed Softshell Turtle (1), Asiatic Softshell Turtle (7), Assam Roof Turtles (142) and Snapping Turtles (259)

•    8th May 2011: A 22-year-old Kuwaiti man was arrested with King snake (1), Corn snake (3), Long-nosed Whip snake (10), African Pygmy Hedgehog (1), Sugar Glider (2), Indochinese Ground Squirrel (2) and Water monitor (1)

•    9th February 2011: A 38-year-old Indonesian man bound for Surabaya, Indonesia, was arrested with Argentine Horned Frog (6), King snake (3), Boa Constrictors (5), Ball Pythons (32), Corn snakes (2), Rainbow Boa (1), Hog-nosed Snake (1), Narrow Headed Soft-shell Turtles (4), Pig-nosed turtle (1), Ploughshare tortoise (1), Radiated tortoise (7), Indian Star Tortoise (88), Aldabra tortoise (3), Matamata (6), Elongated Tortoise (33), Bearded Dragon (19), Horned lizards (4), skinks (2), Finlayson's Squirrel (22), African Grey parrot (1) and spiders (18)

•    21st January 2011: A bag abandoned by a Filipino man was found containing Leopard tortoises (3), Radiated tortoises (2), Burmese Star Tortoises (2) , Sulcata tortoise (1), Red-footed tortoise (2), Hermann's tortoise (4), Marginated tortoises (2) and Asian Brown tortoise (2)
---