TRAFFIC, WWF call for action on poaching and China tiger trade ban
Kathmandu, Nepal, 18 April 2007—The International Tiger Symposium closed today with the world's leading tiger experts and delegates from 12 countries agreeing that poaching is a leading threat to tigers that urgently needs to be addressed.
---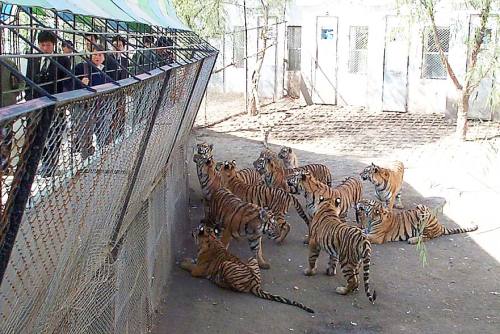 "A clear consensus emerged in the International Tiger Symposium that poaching of tigers in the wild must be combatted urgently and that it requires immediate, coordinated efforts both by countries with tiger populations and countries driving the black market demand for tiger parts," said Dr Susan Lieberman, Director of WWF's Global Species Programme, who also served as chair of the International Tiger Symposium. "The world's remaining wild tigers can't wait. The need for protecting them has never been more urgent."
TRAFFIC, WWF and IUCN-the World Conservation Union, had a delegation of tiger scientists, policy experts and wildlife trade authorities in Kathmandu this week for the Symposium and the following Global Tiger Forum, which opened this afternoon for government delegates and member organisations and will run until Friday.
One issue dominated much of the discussion at the Symposium: whether China will lift its successful 14-year ban on trade of tiger bone and allow domestic sales of tiger products. A petition to overturn the ban is pending before the government by wealthy tiger farm investors, who now have more than 4000 semi-tame tigers in captivity and are hoping to profit from sales of tiger products.
"Such a move could be a death sentence for wild tigers, which will be poached even more relentlessly if there's a legal market for smugglers to 'launder' wild tiger products through," said Steven Broad, Executive Director of TRAFFIC. "We call on the Global Tiger Forum to send a clear message to China that the international community finds any reopening of tiger trade unacceptable."
Other recommendations from the Symposium for the Global Tiger Forum to take up included:
* Investigating ways to reduce human-tiger conflict across Asia and share lessons about methods to compensate communities for tiger depredation.
* Convening a meeting of law enforcement experts to share advice and approaches to halting illegal tiger trade.
* Calling for the development of a global tiger conservation that would follow an approach successfully used for African lion conservation.
---