TRAFFIC wins Mazda Wildlife Fund 2007 award
Cambridge, UK, 11 April—The TRAFFIC East/Southern Africa regional office has been recognized as one of the top five conservation achievers in 2007 at a conference hosted by Mazda.
---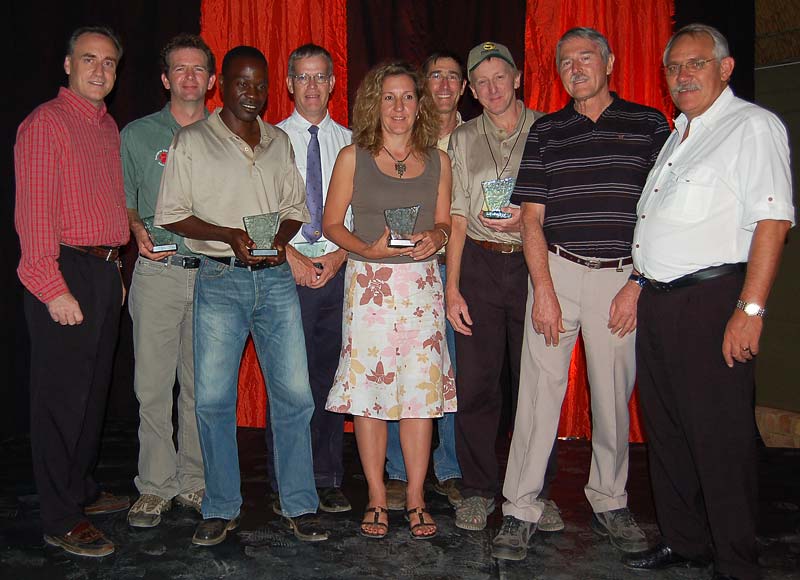 Mazda, through the Mazda Wildlife Fund, is committed to environmental conservation, which is now a worldwide issue, dramatically changing the attitudes of consumers and the way large corporations do business.
"We are very proud of the difference the Mazda Wildlife Fund is making to our country and our environment," commented Jacques Brent, General Manager Mazda South Africa.
The conference, held at Dikhololo Nature Reserve, near Brits, South Africa, addressed a variety of topics, highlighting major issues and concerns. A common theme was on improving eco-systems and working closely with local communities.
During the event, TRAFFIC was one of five outstanding projects selected by the Mazda Wildlife Fund for conservation successes during 2005 and 2006 for work on marine fisheries, law enforcement training, timber, medicinal plants, elephant ivory, rhinoceros and other projects. Other winners included the Mondi Wetlands Project, the Share-Net/Eco-Schools environmental awareness project, the Riverine Rabbit project and an award for the Conservation Leadership Group of the Endangered Wildlife Trust.
Accepting the award, David Newton, TRAFFIC's National Representative in South Africa, commented: "TRAFFIC is delighted our work in the region has been recognized in this way by the Mazda Wildlife Fund. TRAFFIC is the longest-term beneficiary of Mazda's support; our 15 years of co-operation is creating tangible conservation benefits for our threatened native plants, animals and wildlife resources."
---