TRAFFIC welcomes APEC Bali Declaration
Bali, Indonesia, 10th October 2013—Leaders of the Asia-Pacific Economic Cooperation (APEC) forum issued the Bali Declaration this week, which includes a commitment "to combat wildlife trafficking by enhancing international cooperation through Wildlife Enforcement Networks (WENs) and other existing mechanisms." 
---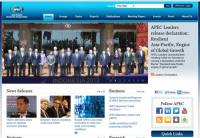 There are also commitments to "reducing the supply of and demand for illegally traded wildlife, increasing public awareness and education related to wildlife trafficking and its impacts, and treating wildlife trafficking crimes seriously".
APEC is a forum for 21 Pacific Rim member economies, including major players from East and Southeast Asia, plus countries from western South America and North America. 
It includes some of the world's most powerful economies, including the USA, China, Japan and Russia, and links Australia to its major trading partners. 
Under the theme of "Resilient Asia-Pacific, Engine of Global Growth", the APEC Leaders "recognized that resource scarcity presents an immense challenge that limits our ability to pursue economic growth and we were mindful of the grave economic consequences of natural and human-caused disaster, particularly to the most vulnerable members of society"
"TRAFFIC warmly welcomes this recognition at the highest political level by some of the world's most powerful economies that wildlife trafficking is a serious global issue that must be firmly addressed," said James Compton, TRAFFIC's Senior Director for the Asia Pacific. 
"TRAFFIC's has a proven track record in supporting the work of Wildlife Enforcement Networks, and we are standing by ready to bring this expertise to the table." 
Since 2005, TRAFFIC has worked alongside the 10 member countries of the Association for Southeast Asian Nations (ASEAN) to support the establishment and operations of the ASEAN Wildlife Enforcement Network (ASEAN-WEN).  
More recently, TRAFFIC has provided technical input and support to operationalise the South Asian Wildlife Enforcement Network(SAWEN) and push ahead with progress towards a WEN in Central America. 
"APEC provides a significant overlay in trans-regional architecture, and binds together key players critical to addressing the continuum of supply and demand for illegal wildlife products. Trade is the lifeblood of the region, but it is important that these pathways do not become major transport routes for wildlife trafficking," Compton added.  
"There is obviously great potential for APEC's support to enhance existing efforts at the regional and national levels to ensure that its mission of 'sustainable economic growth and prosperity' does not further threaten the earth's finite biological resources."
The focus on wildlife trafficking by APEC comes shortly after attention was drawn to the same issues at the UN General Assembly. Support from the highest levels of government, together with inter-governmental partners like the members of the International Consortium on Combating Wildlife Crime (ICCWC) is critical to addressing these issues. This was echoed by the CITES Secretariat when commenting on the Bali Declaration.
---