Wildlife crime-fighting training package for ASEAN Customs officers
Bangkok, Thailand, 8th March 2013—Customs officers across Southeast Asia will now have access to a wildlife crime-fighting knowledge kit that will help tackle the problem on the frontlines.
---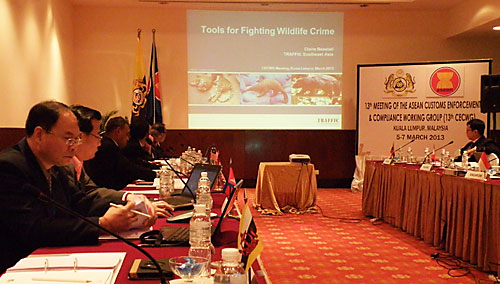 Designed by TRAFFIC, the materials were developed to introduce local and global wildlife trade issues to enforcement officers. 
It provides information on laws that govern wildlife trade including the Convention on International Trade in Endangered Species of Wild Fauna and Flora (CITES). It also details the species, methods and routes favoured by wildlife smugglers.
Known as the ASEAN-Wildlife Enforcement Network (ASEAN-WEN) Training Management Package (TMP), it has already been used to educate and raise the capacity of 1,500 enforcement officers to fight wildlife crime in the region.
The materials were handed over to the ASEAN Customs Enforcement and Compliance Working Group at its 13th meeting in Kuala Lumpur, Malaysia and will be offered to all national offices in the region for use in their training syllabus. 
The TMP enables government agencies to carry out courses independently, tailor it to meet specific priorities and to include it in existing national training curricula. Additionally, it includes a critical tool that helps officers to ascertain the species they come across in shipments and seizures.
This tool, the ASEAN Identification Sheets for Wildlife Species Traded in Southeast Asia, provides clear images, text and examples of how specimens may appear in trade.  The sheets have been produced in all the national languages of the region, as well as in Chinese and Japanese.
TRAFFIC's focus on training and capacity building for enforcement officials speaks to the need to address poor awareness of wildlife trade regulations among enforcement officials and difficulties they face identifying smuggled wildlife.
To help meet this challenge, the Ministry of the Environment Japan and TRAFFIC have collaborated over the past three years to train 300 enforcement officers in Malaysia, Viet Nam, Cambodia and Myanmar under the East and Southeast Asian Biodiversity Information Initiative (ESABII). 
Several of these officers have since conducted the same training programme in their home countries with Viet Nam training some 800 people stationed at the Noi Bai Airport. Cambodia reported the use of the identification sheets by officers at border checkpoints and a plan to conduct trainings at the provincial level if funding can be secured.
Enforcement officers from Viet Nam and Cambodia presented achievements, and lessons they learnt from conducting training under the programme, at the 16th CITES Conference of the Parties. Representatives from governments worldwide are presently attending the CITES meeting in Bangkok.
---