TRAFFIC opens Central African programme office
Yaoundé, Cameroon, 17th May 2008—After several years of providing remote assistance on wildlife trade priority issues to countries in Central Africa, TRAFFIC has established an operational base in the region through the opening of a programme office in Yaoundé, Cameroon's capital.
---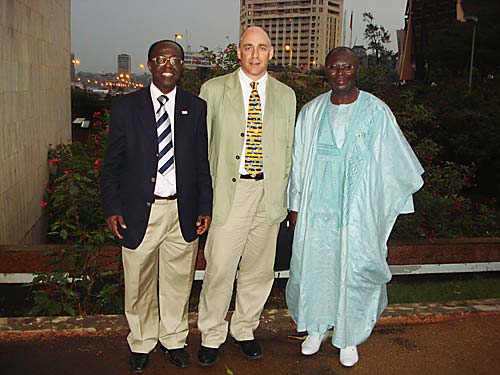 Hosted by IUCN, the new TRAFFIC Central Africa programme office will focus on the trade in wild meat—a vulnerable resource in the Congo Basin, on good timber trade governance, and on closing down illegal domestic ivory markets and ivory smuggling routes.
"The time is ripe for TRAFFIC to become operational within the Green Heart of Africa" said Germain Ngandjui, the newly appointed Senior Programme Officer of TRAFFIC's Central Africa Programme. 
"The global timber trade links Central Africa to other continents, but illegal trade and corruption undermines conservation efforts and results in a loss of income to national governments."
TRAFFIC's research has also revealed several countries in Central Africa are suffering illegal ivory trade. 
Laurent Somé, Regional Director of WWF's Central African Programme, commented: "We warmly welcome TRAFFIC, whose work on legal and illegal wildlife trade practices will greatly support WWF's initiatives in the region to save elephants, great apes and other wildlife." 
"Together with TRAFFIC we can achieve the much-needed changes in wildlife trade governance in Central Africa—and we are proud to work with TRAFFIC's regional office," said Bihini Won Wa Musiti, Head of IUCN's Central African Programme.
TRAFFIC will initially focus its efforts in 8 of the 10 COMIFAC (Central African Forest Commission) countries in the region, namely the Republic of Cameroon, Republic of Chad, Central African Republic, Democratic Republic of Congo, Republic of Equatorial Guinea, Republic of Gabon, Republic of Congo, and Republic of Saõ Tomé & Principe (the exceptions are the Republic of Rwanda and the Republic of Burundi), where TRAFFIC will assist with the implementation of COMIFAC's "Plan de Convergence". 
TRAFFIC is grateful to IUCN, WWF (in the USA, France and Germany), the CITES Secretariat and the French and German Governments for their support of its Central Africa Programme. TRAFFIC is a joint programme of WWF and IUCN. 
---